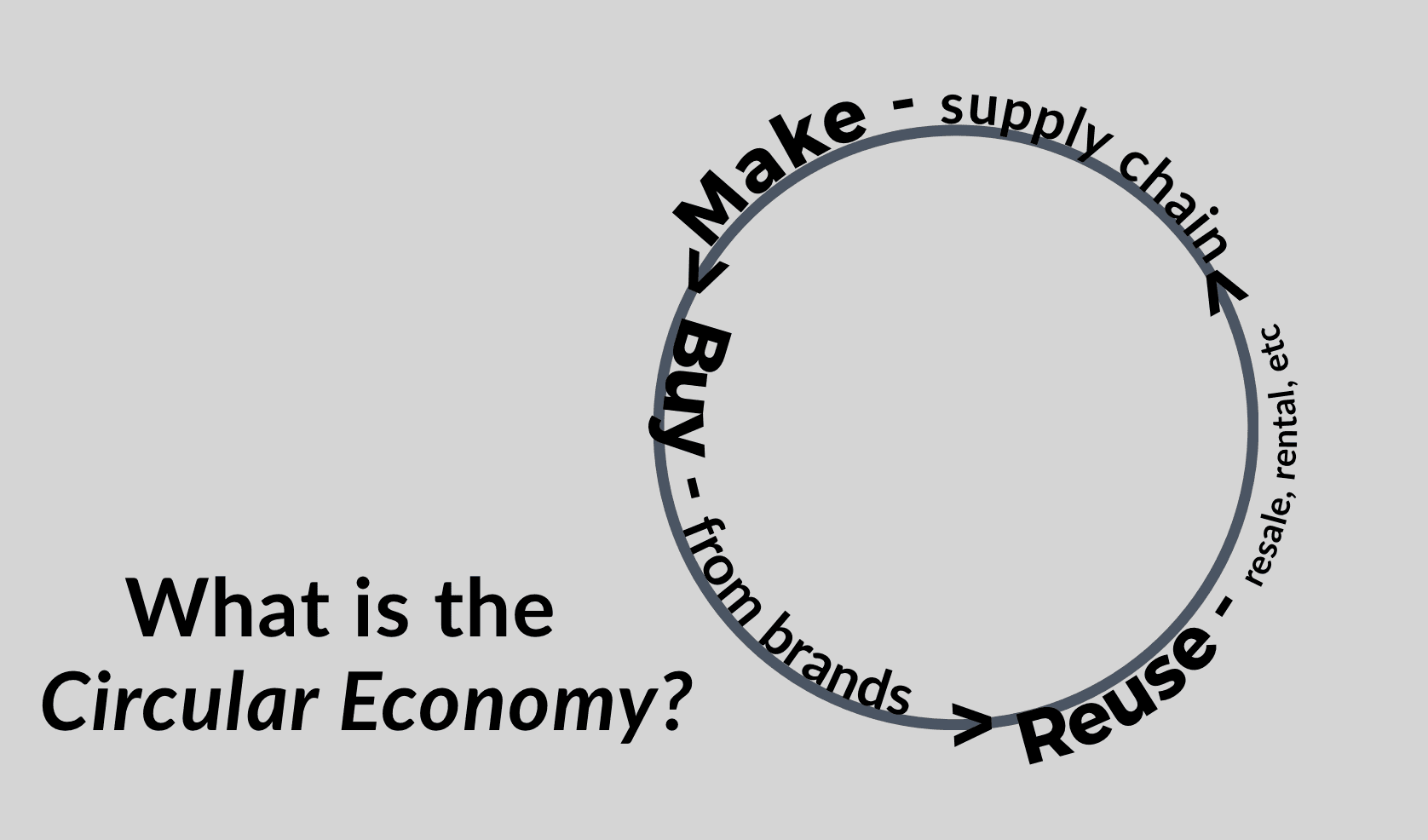 Introduction‍
To first understand the circular economy, let's take a look at the linear economy. The linear fashion model follows a "make-use-dispose" pattern. This leads to an extremely wasteful and polluting system.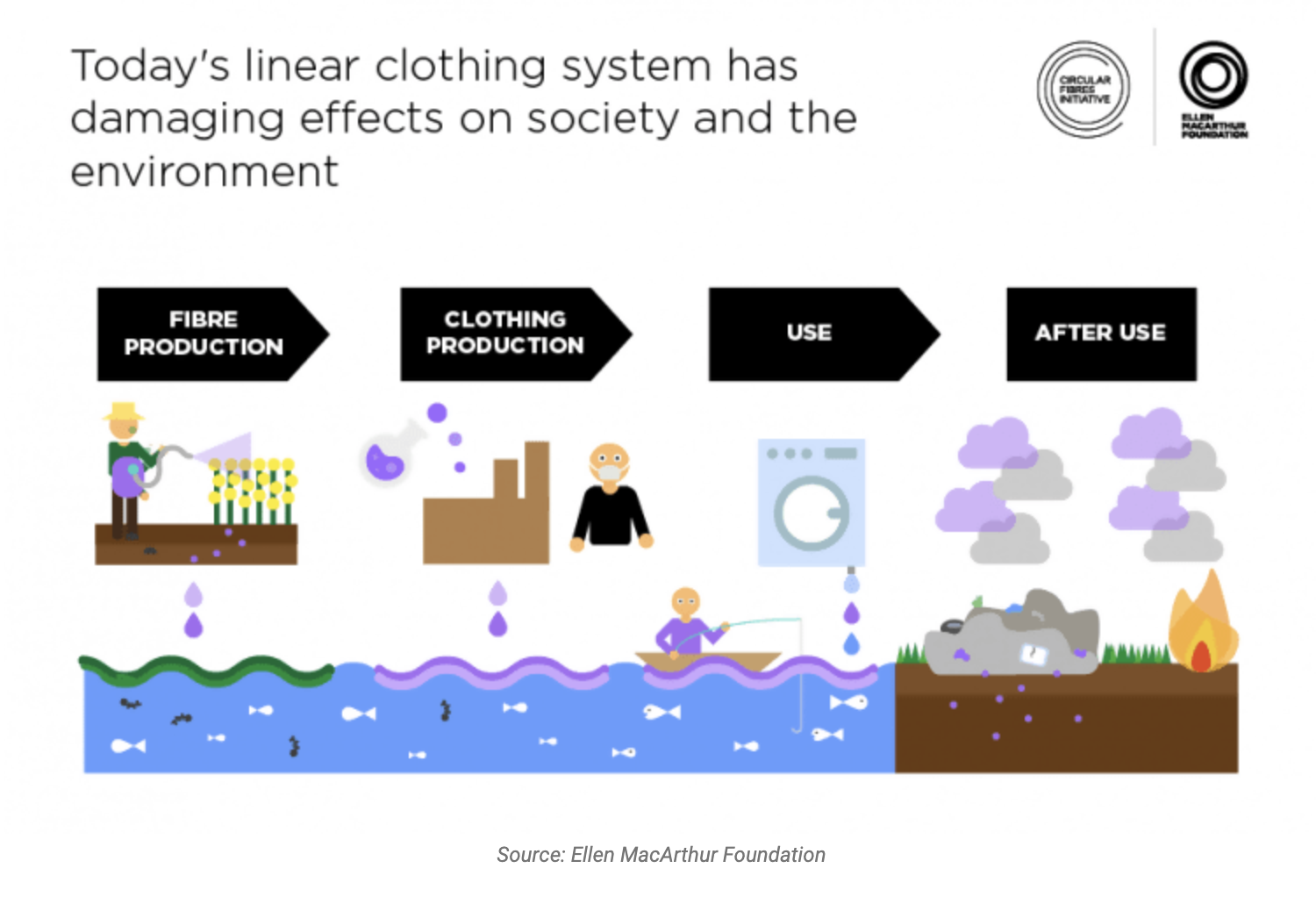 According to the Environmental Protection Agency, in 2014 85% of used clothes were not recycled, which highlights the habit consumers have to follow more of a linear model. The advent of following more of a linear fashion model is partially encouraged in society due to the modern-day phenomenon of fast fashion.
‍You can read more about fast fashion and its impact here.
With fast fashion, companies are able to mass-market and mass-produce garments, which in turn allows consumers to purchase the latest trends for cheap. Then when consumers are done with the cheap clothing they purchased, they simply just dispose of them and purchase more fast fashion clothing.
The habit of just disposing of used clothing and accessories after you are finished has a significant impact on the environment. Especially when the average American citizen will end up throwing away 81 pounds of clothing this year. And not only is clothing frequently disposed of with this ***linear economy,***butthe linear system also utilizes large amounts of resources and has a serious impact on the environment and the people involved in manufacturing these products.
The question is how can the fashion industry be more sustainable for the economy and the environment?
‍
What is the Circular Economy?
The circular economy is a broad and all-encompassing concept that goes beyond just economic considerations. In actuality, the idea of a circular economy includes a wide range of non-fiscal elements that contribute to sustainability, and as a result, this has led to the birth of different definitions and approaches.
Therefore, according to the Ellen McArthur Foundation, "with a circular economywaste and pollution are pre-designed out of the system; products and materials are kept in use, and made from safe and recycled or renewable inputs."
‍
Circular Economy vs Circular Fashion model
The circular economy first and foremost is a systematic economic approach toward sustainability across a multitude of industries. While with the circular fashion model is just one aspect of the circular economy and relates specifically to the fashion industry and how that industry can become more sustainable and in effect contribute to the circular economy.
With the circular fashion model, garments are kept in circulation for as long as their value is retained, and then returned to the biosphere when they can no longer be used.
‍
"Circular fashion can be defined as clothes, shoes, or accessories that are designed, sourced, produced, and provided with the intention to be used and circulate responsibly and effectively in society for as long as possible in their most valuable form, and hereafter return safely to the biosphere when no longer of human use." (Anna Brismar, Green Strategy, 2017)
‍
How can the Circular Fashion model work?
To make the circular fashion model work several aspects need to be re-evaluated from materials to even how the final products are used after they are bought from the brands.
‍
Circular materials
When producing products from the primary luxury fashion market, companies first need to consider whether or not they are utilizing materials that have a low environmental impact. They also need to discover renewable manufacturing processes that do not have a detrimental impact on the environment and the people involved in manufacturing those products.
Fast fashion companies have come under fire in recent years for the effects of producing clothing quickly and at a lower cost that also can negatively impact the lives of the workers in the developing countries that help to mass-produce these products.
Another aspect the companies even 'slow fashion' luxury designer brands need to consider is what to do with the inevitable leftover materials once products in their collections have been produced. In surprising news, LVMH launched their new platform, Nona Source as a way to eliminate the waste from the culmination of deadstock (unused) fabric. Small designers to LVMH competitors are encouraged to purchase this deadstock material as a way to cut down on industrial material waste.
Stephanie Benedetto, co-founder, and CEO of Queen of Raw - a platform that also resells deadstock materials said in an article, "Deadstock represents 15 percent of textile production across brands, retailers, factories and mills, adding up to the annual loss of around $152 billion for the industry."
‍
Circular design
When designers (Brands) design products they should look to create items that are built to last and after an initial use retain value so that they can either be reused, recycled, or upcycled into something else.
‍
Circular use
In order for circular use to work, after a product has been initially purchased through the primary luxury market, consumers should feel empowered with knowledge of what they can do with their items other than just disposing of them. 
This aspect of the circular fashion model is being disrupted with the advent of resale and rental marketplaces (i.e. The RealReal, Rebag, Rent the Runway, etc). Although, the process by which products are resold to the secondary market can still use improvement, specifically with the hurdles of understanding prices and authentication for small businesses.
‍
According to the Circular Fashion Report 2020, produced by lablaco, the resale market is expected to reach $64B by 2024. The secondary market has in the last 3 years grown 21x faster than the traditional primary retail market. This new type of market has been spearheaded by large companies like The RealReal, Fashionphile, Rebag, Tradesy, Vestiare Collective, etc. However, this does not even take into the thousands of small businesses, pawn shops, auction houses, or even estate sales that resell luxury fashion products on the secondary market. 
When thinking of this model, people need to understand that this is a new type of transaction (C2B - customer to business) with its own set of problems that need to be solved. In order for this to work and for companies to scale, they need to have an understanding of market prices and a reselling process that is streamlined and encourages their customers to convert from buyers to sellers. 
And with reselling, businesses can rely on a variety of payment options for their customers - selling upfront, consigning, and/or trading in for store credit.
‍
The great thing is that the rental model can work alongside the resale model. With the rental model, typically a monthly subscription, users can rent on-trend designer fashion for short-term or long-term rentals that they then return when their rental period is over. Therefore, increasing the overall lifetime use of the garment. A lot of these companies also allow you to purchase outright some of their clothing as well as rent.
Popular rental clothing companies include - Rent the Runway, Le Tote, Nuuly, Armoire, etc. Designer brands are even getting in on the rental market, the clothing brand Vince recently released Vince Unfold.
To show further the connection between the rental model and resale model, Rent the Runway, some of the clothing items that are no longer rentable are resold through ThredUP. Thus, showing how the rental and resale market can work together to make the circular fashion model.
‍
Conclusion
The most important takeaway from this article is that we cannot continue with the traditional linear economymodel. The waste and pollution produced from this model have too much of a detrimental impact on our environment and people manufacturing these products. 
If we want to enact change to bring about more sustainable manufacturing and industries we need to think with more of a circular economyin mind, where no materials or products are wasted. In order for the luxury fashion market to contribute to the circular economy then companies need to think with a more circular fashion model.
Thankfully the fashion industry is becoming more circular through innovative resale and rental companies. 
However, there is and will always be room for improvement - the designer brands need to first become more sustainable in the design and manufacturing process and second they need to accept the need for the secondary luxury market. 
Read more about fast fashionhere.
‍
Sources
Brismar, Anna. "Origin and definition of circular fashion." Circular Fashion Definition
Farra, Emily (December 19, 2019). "The Future of Fashion is Circular: Why the 2020s will be about making new clothes out of old ones." The Future of Fashion is Circular
Guilbault, Laure (April 26, 2021). "LVMH's latest venture - a deadstock fabric platform." LVMH's Latest Venture
lablaco in partnership with Vogue Business, PwC, Anthesis, Startupbootcamp. "Circular Fashion Report 2020 - Year Zero." Circular Fashion Report 2020
"Moving towards a Circular Fashion Economy." Circular Fashion Economy
Segura, Alfonso (April 1, 2019). "Circular Economy in Fashion." Circular Economy in Fashion
Vogue Business Team (November 30 2020). "Fashion's circular economy could be worth $5 trillion." Fashion's Circular Economy
---