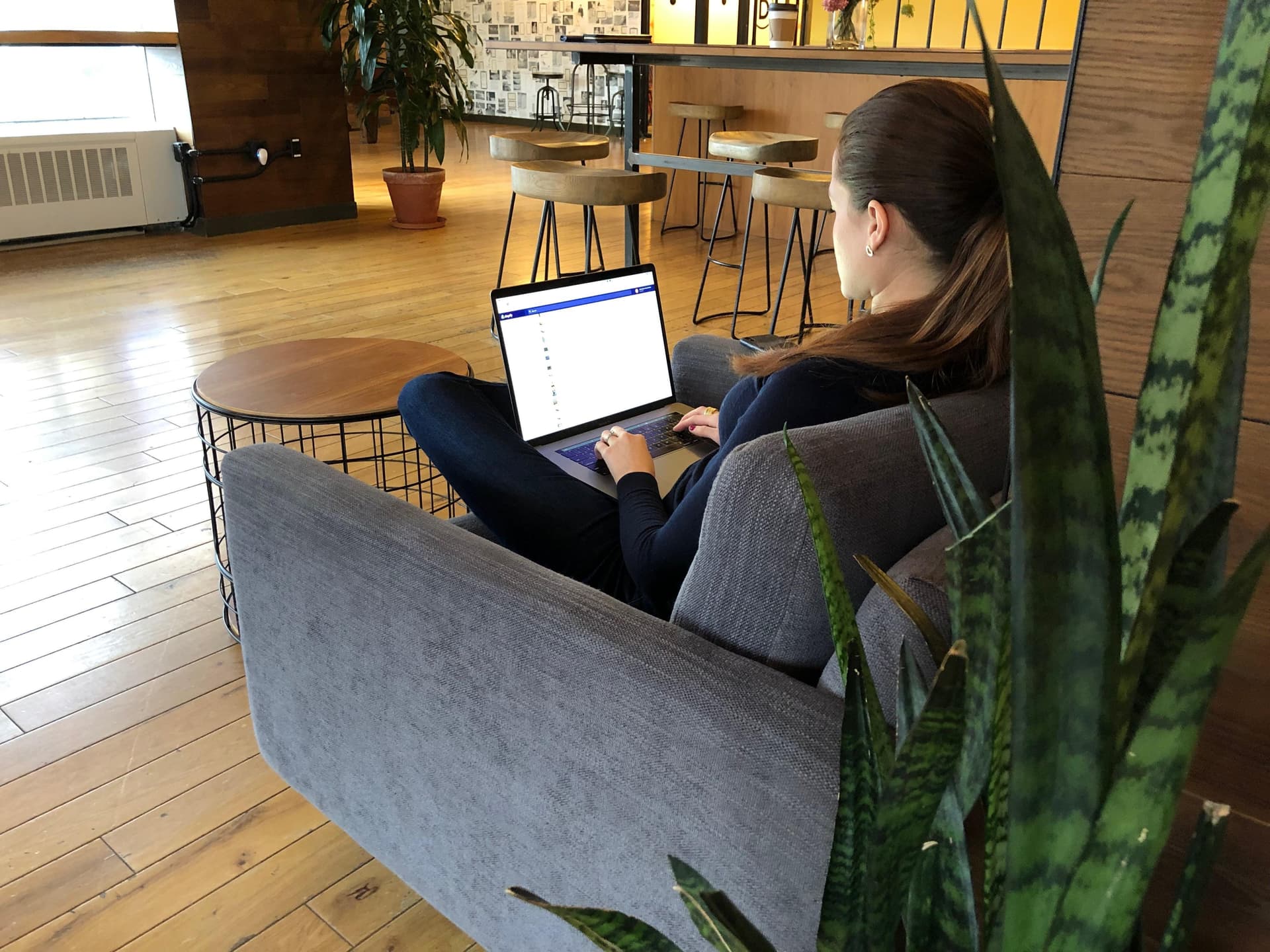 Trendful is a recommerce technology for the luxury market. ‍
***What does that mean?***‍
We have created a Resell Interface for designer handbags that can be integrated onto a secondary market business's website. The business can choose to offer their customers buyout, consignment, or store credit offers for their items. Customers can then seamlessly find the bag they wish to sell on the interface and instantly receive an offer. While on the backend we help the businesses manage pricing, shipping, and payments to their customers.
‍
‍***What is the solution like for a customer (user)?***‍
From a user perspective (what your customers will experience), the step-by-step process is very simple:
The user finds their bag in a few clicks (selects the designer, model, style)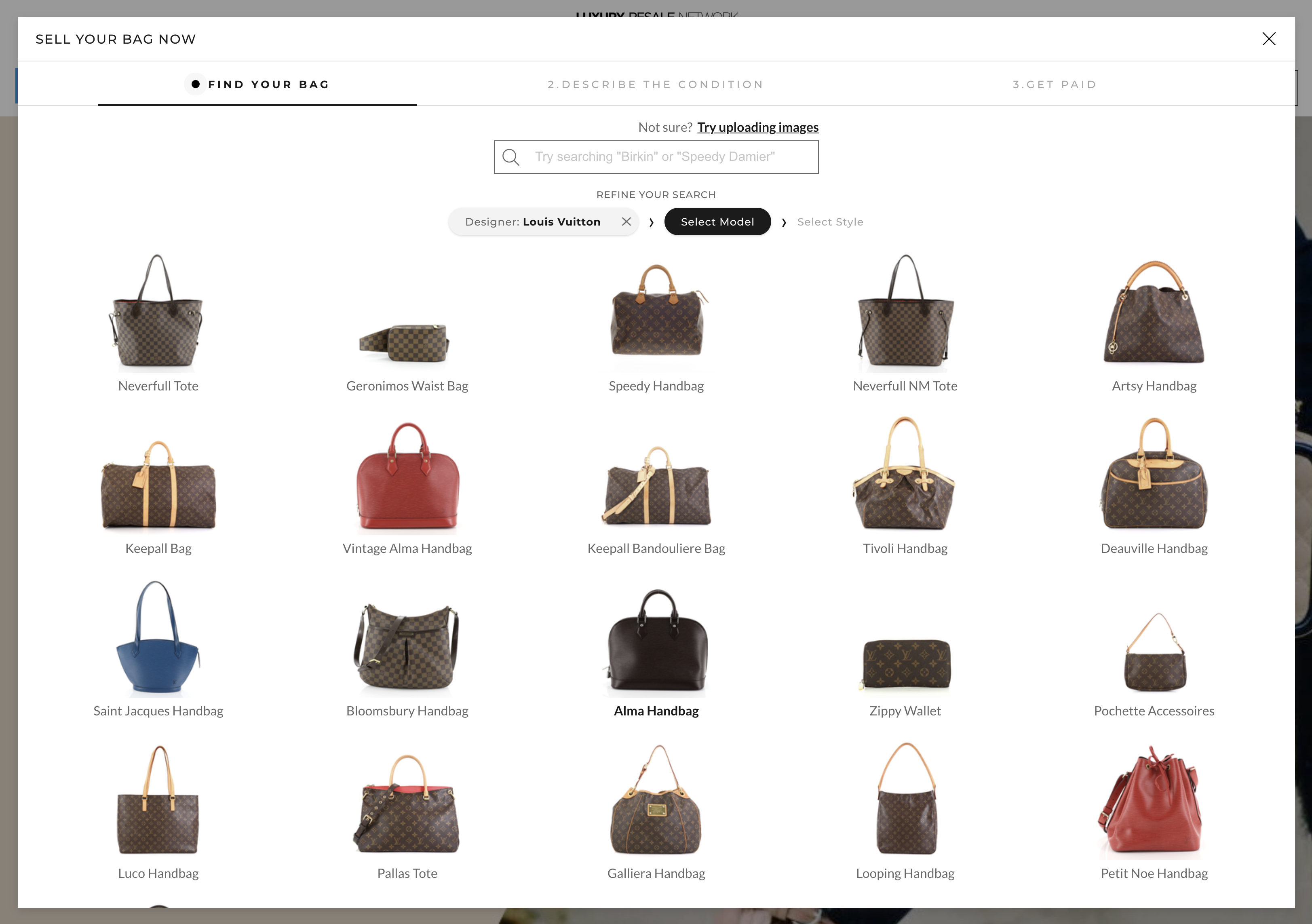 2. Next, the user selects the condition (excellent, great, good, fair)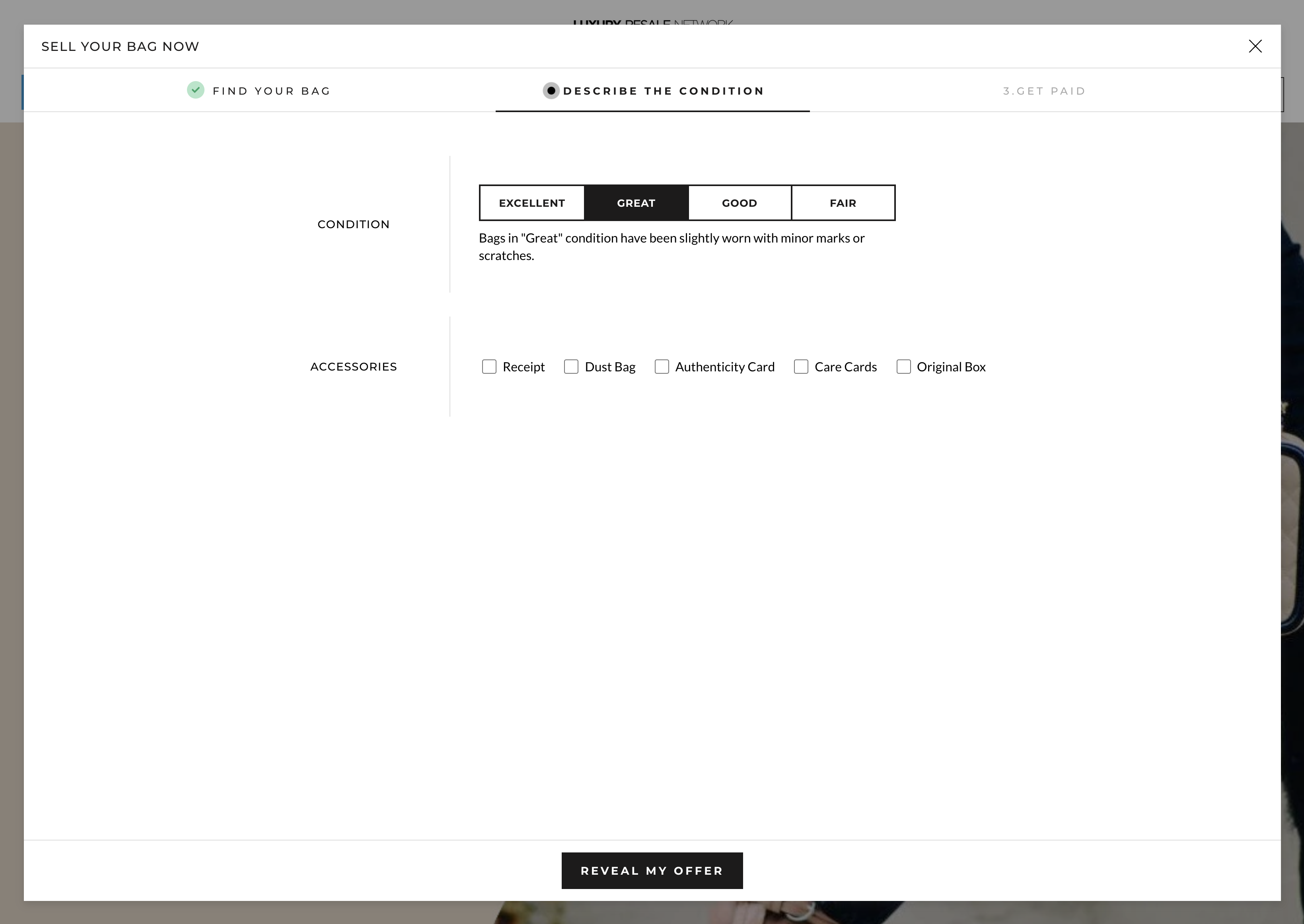 3. Finally, the user gets a quote of what they could earn by selling upfront, consigning, or trading in for store credit. If the customer accepts, we automatically send a confirmation email to them with a shipping label.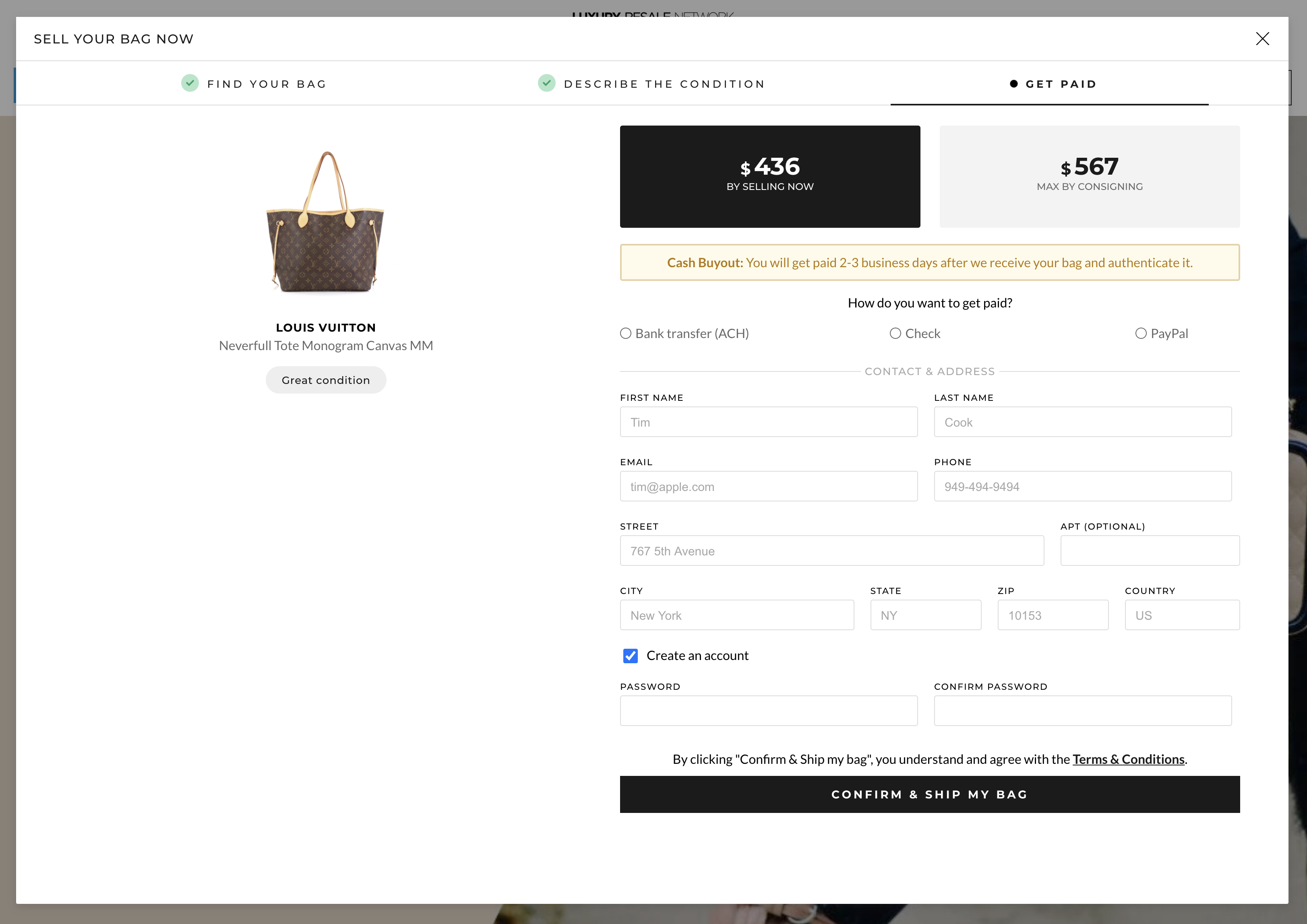 ‍
What is the solution like from your perspective as a retailer?
If your customer receives an instant quote (buyout, consign, store credit) after using the interface, then there is no additional work on your end. We automatically send the customer the shipping label and send you a notification via email with the customer information including: 
Customer name
Email address
Item information
Tracking information
If the customer cannot find their bag and/or if we do not have enough pricing data for that particular item, they can request a manual quote. The customer would simply upload images for the item they wish to sell. You would then receive an email whereby you could determine the quote you would like to offer the customer.
For the moment interaction between us and your customer is done via email, however, we are soon going to release an Admin Portal.
‍
Pricing Software‍
In general, giving price estimates is generally a time-consuming process. You need to look at prices from different competitors, and even so, your company cannot always collect enough price points to compute the right price to resell an item at. 
Behind our interface, we have over 30 million data points for a collection of about 35K handbags with 40 top designers. The data includes market prices, condition, and popularity.
We continuously are updating and growing our pricing database to instantly provide you with the best estimate/quote and reselling price for more and more items.
‍
***How do we compute quotes?***‍
Be sure to check out our demo here. 
With our pricing software, we are able to evaluate the fair market value (the price to resell an item at) and the best price to offer a customer that will ensure that you make the profit margin that fits your company's needs.
For example: 
Take a Louis Vuitton Neverfull Brown Monogram MM tote, for just this item alone, we have more than 500 data points. 
Let's say the fair market value for this item is $1040. 
Depending on the target markup that you want to make, we apply a percentage on the fair market value of the item. Therefore, if you want to make a 30% profit margin, the buyout offer that would be given to the customer would be $728.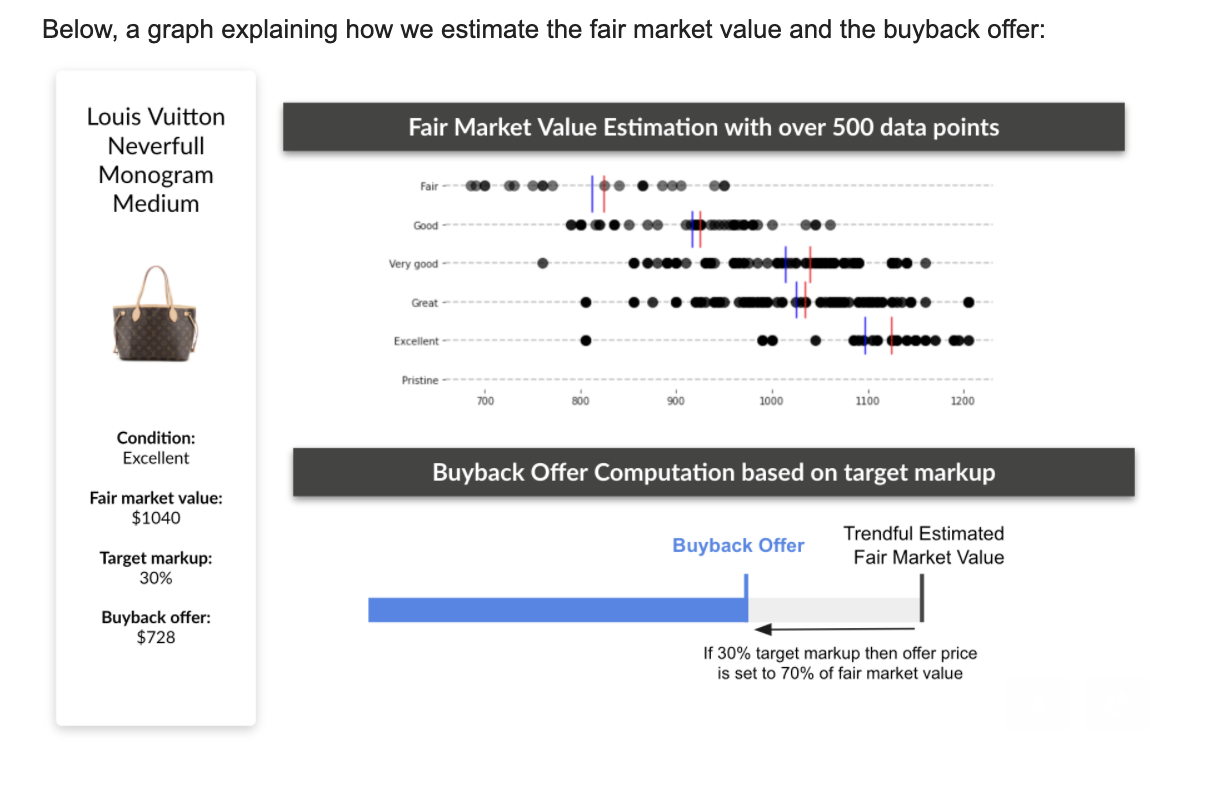 ‍
***What additional features will we be releasing soon?***‍
We have some exciting features that we will be releasing very soon!
Soon our clients will receive an invitation to create an account on our Admin Portal. This means that business owners (our clients) will be able to see and manage the offers to their customers. In the future, they will even be able to pay out their customers through the Admin Portal as well. 
Also, we will soon be expanding our interface to include designer watches and jewelry! 
Interested in knowing more about Trendful or the future features we will be offering our clients? You can always sign up for our newsletter to stay up-to-date!
---