Customize automatic emails
Introduction
Customizing your automatic emails is an important way to improve the customer experience and promote your brand. With Trendful's white-labelled Resale App, your customers will receive automatic confirmation and offer acceptance emails, as well as pre-generated emails sent from the admin in just one click. In this guide, we'll walk you through how to customize your emails and provide some tips and best practices.
‍
Customization options
Depending on your subscription level, you can customize your emails in different ways. With a Premium or Pro subscription, you can add your company name, a disclaimer, next steps, and social links to your emails. With an Enterprise subscription, you can customize your email templates from scratch, including adding a logo, changing the design, and editing any verbiage. If you have an Enterprise subscription and would like to make further changes to your emails, please contact us.
‍
Customizing your emails
To customize your emails, navigate to your Settings > Preferences and the Email settings section. There are 10 automatic emails that are customizable, including 3 that are only available to Enterprise subscriptions.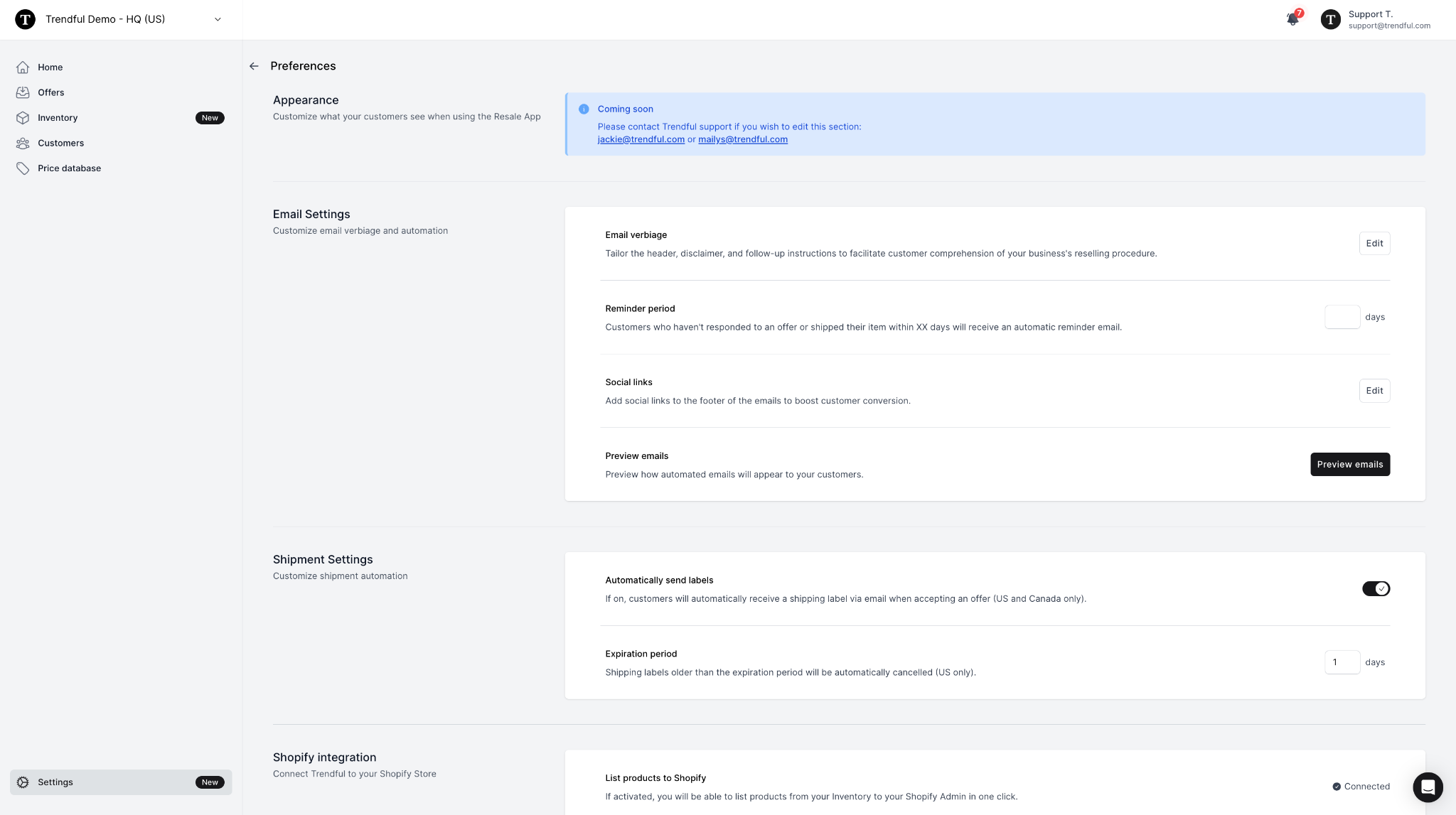 ‍
Here's how to customize them:
‍
Edit the verbiage: Click on "Edit" in the Email verbiage section to customize the text of your emails. For each email that offers this option, you can fill out your company name, disclaimer, and next steps. Consider using this opportunity to explain the reselling process and provide any other relevant information to your customers.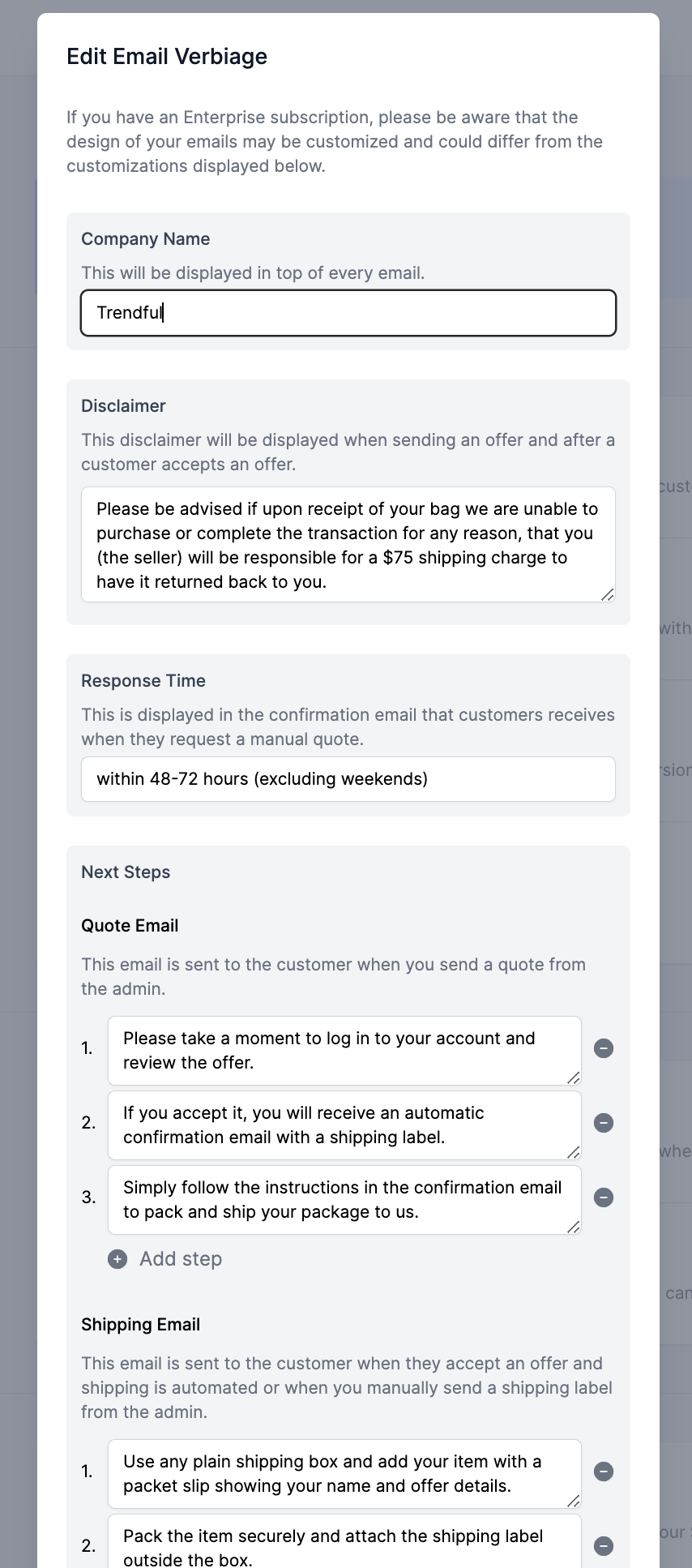 ‍
Edit social links: Click on "Edit" in the Social links section to add your company's social media accounts, phone number, and email address. This can help boost customer conversion and provide additional ways for customers to connect with your brand.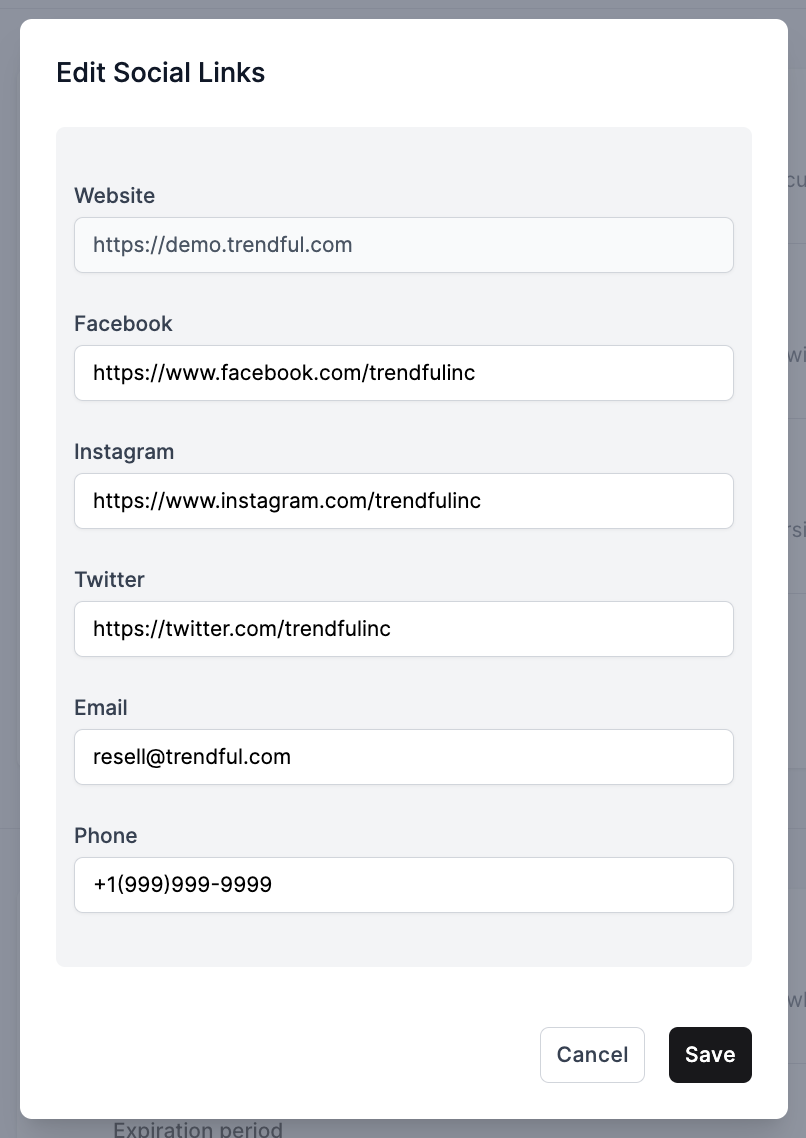 ‍
Then, you are able to review your emails in the Preview Emails section.

‍
Best practices
Here are some best practices to keep in mind when customizing your emails:
Keep it simple and clear: Your customers should be able to easily understand what each email is about and what they need to do next.
Use your brand voice: Make sure your emails reflect your brand's personality and tone.
Provide value: Consider adding some helpful tips or information to your emails that can help customers get the most out of their experience with your company.
Test and refine: Don't be afraid to experiment with different email designs or verbiage to see what works best for your customers. Use data to inform your decisions and continually refine your approach.
‍
Conclusion
Customizing your automatic emails can help improve the customer experience and promote your brand. With Trendful, it's easy to customize your emails to reflect your brand's personality and provide value to your customers. By following the tips and best practices outlined in this guide, you can create emails that engage your customers and help them get the most out of their experience with your company.
---