How to send PayPal and Venmo payouts via your admin account
Introduction
---
Ensuring seamless payouts is paramount for resale businesses, especially when dealing with multiple and platforms and customer preferences. With our resale software you are now able to send PayPal and Venmo* payouts in one simple click.
*Venmo is only available for US recipients.
Connecting Your PayPal Business Account to Trendful
---
Before delving into the Trendful admin platform, you need to ensure that you have a functional PayPal Business Account and enable Payouts. Then, connecting your PayPal Business account to Trendful is a straightforward process:
In your PayPal Business Account, navigate to the 'Developer' dashboard

Navigate to 'API Credentials' and select 'Create App'

Enter 'Trendful' as the application name and click 'Create App'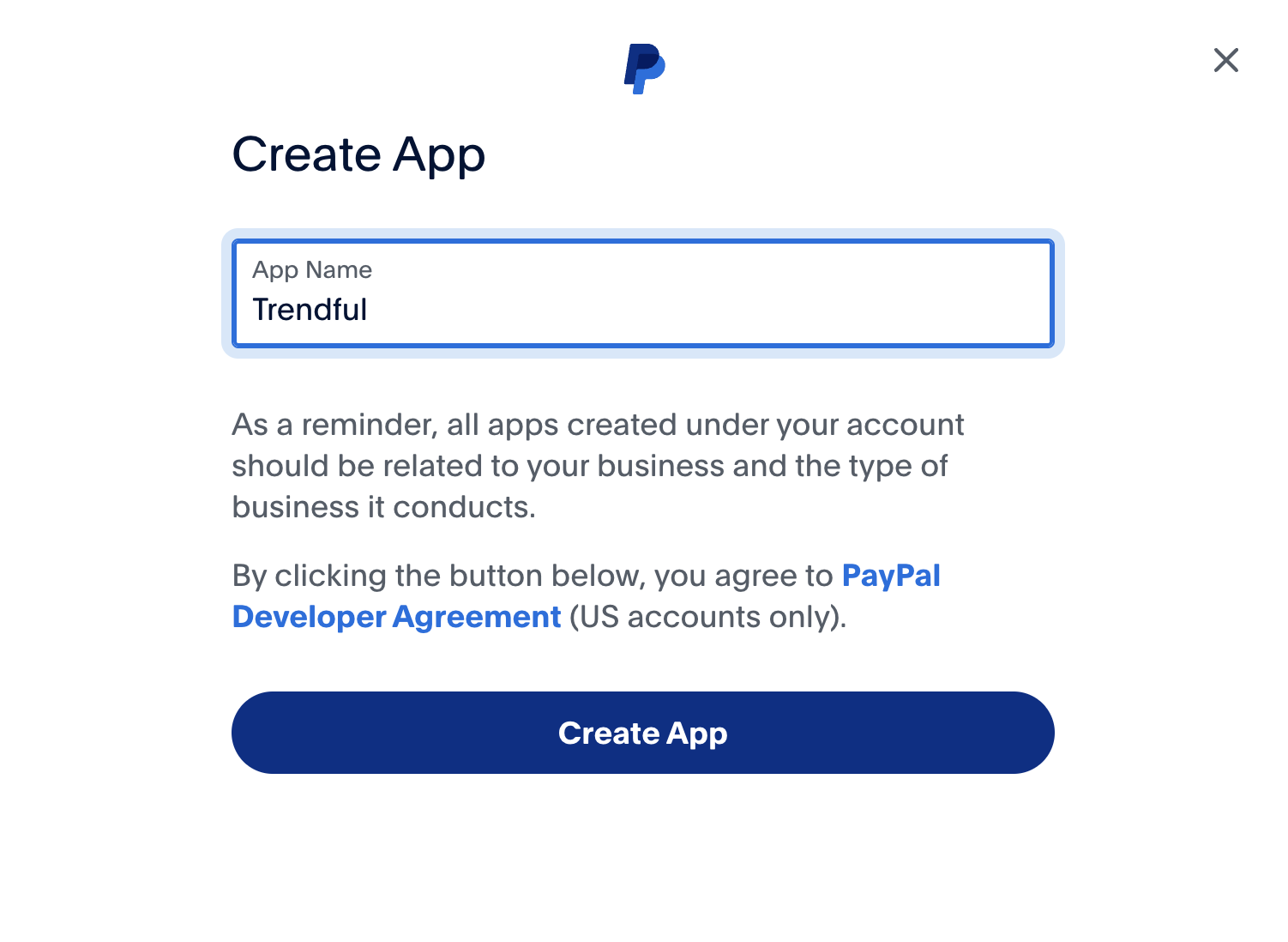 In the Trendful application you just created, verify that 'Payouts' is selected in the Features section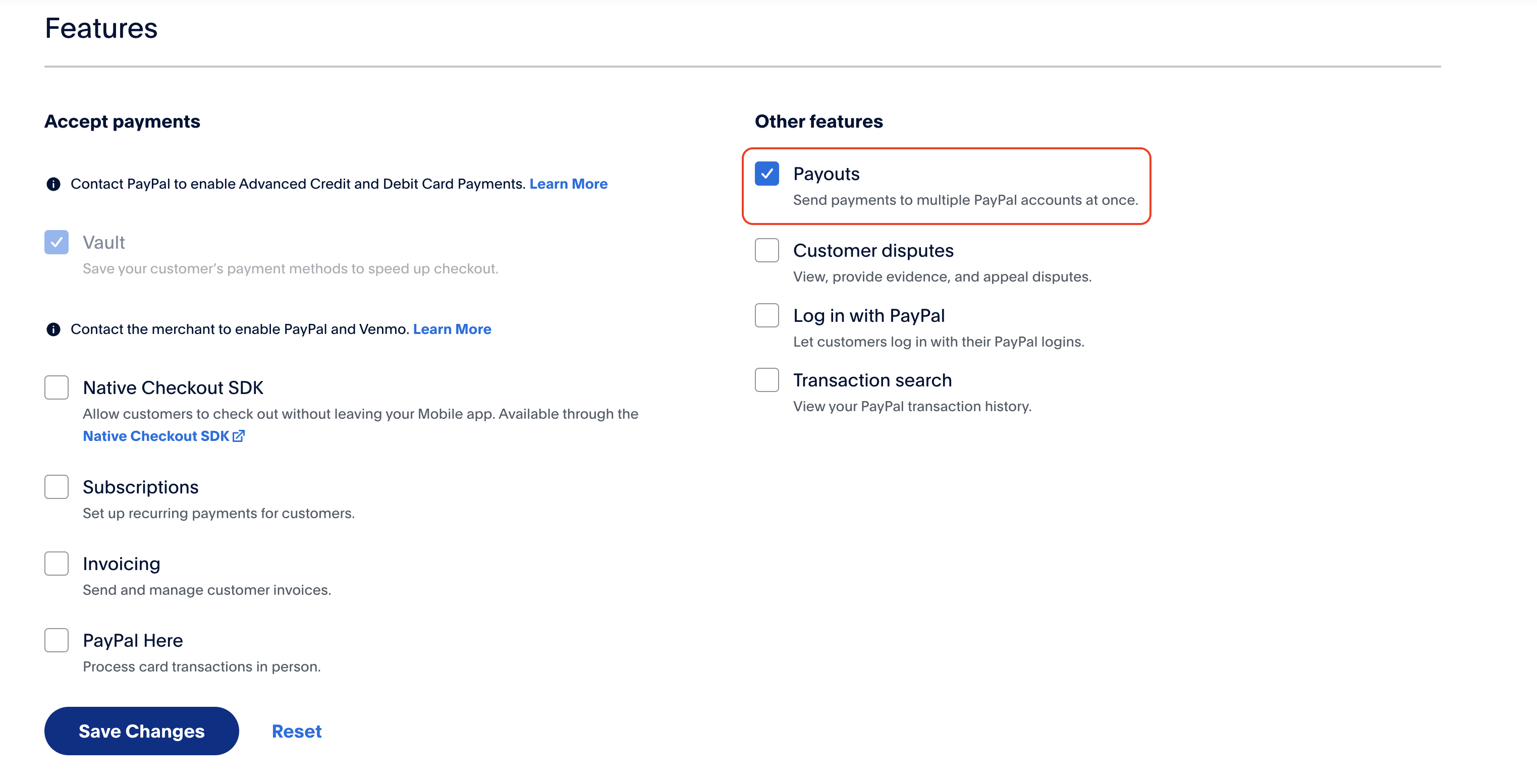 In the Webhooks section, click on 'Add webhooks'

Add the URL https://api.trendful.com/webhooks/paypal and scroll down to select events to subscribe to: in 'Payments & Payouts' dropdown, select all events that contain 'payoutsbatch' and 'payouts-item'

Then click 'Save' and verify that your webhooks has been created with the required tracked events: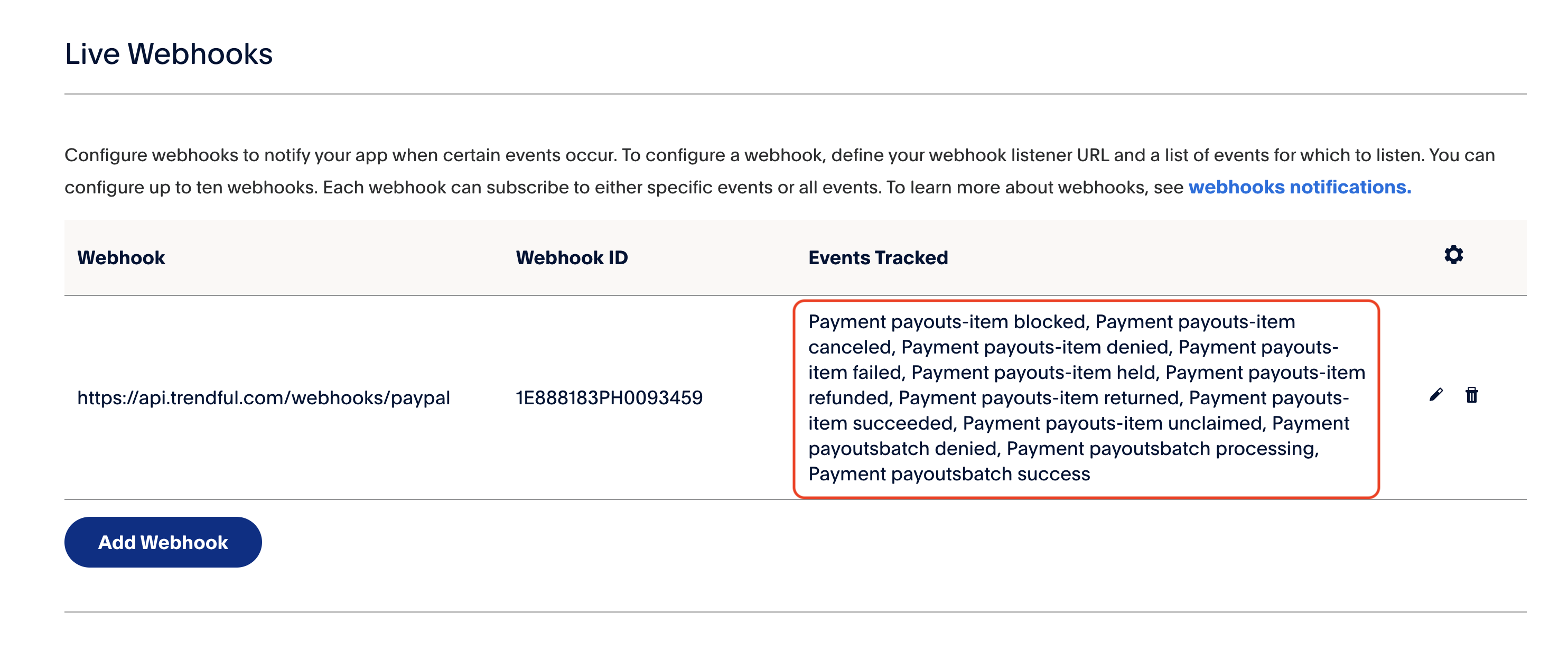 Lastly, scroll up on the Trendful application and copy your Client ID and Secret Key.

Them, log in into your Trendful Admin account and navigate to your Settings > Payout Wallet > External wallets section. Paste your Client ID and** Secret Key** here by clicking 'Edit' and then 'Save'.

And you are now ready to send PayPal and Venmo payouts!
Sending your first Paypal or Venmo payout
---
To send your first payout:
Navigate to the appropriate submission or offer that's ready for payout. Scroll down to the Payout section and click on 'Create payout'.

Select the payout method you or the customer wishes to use.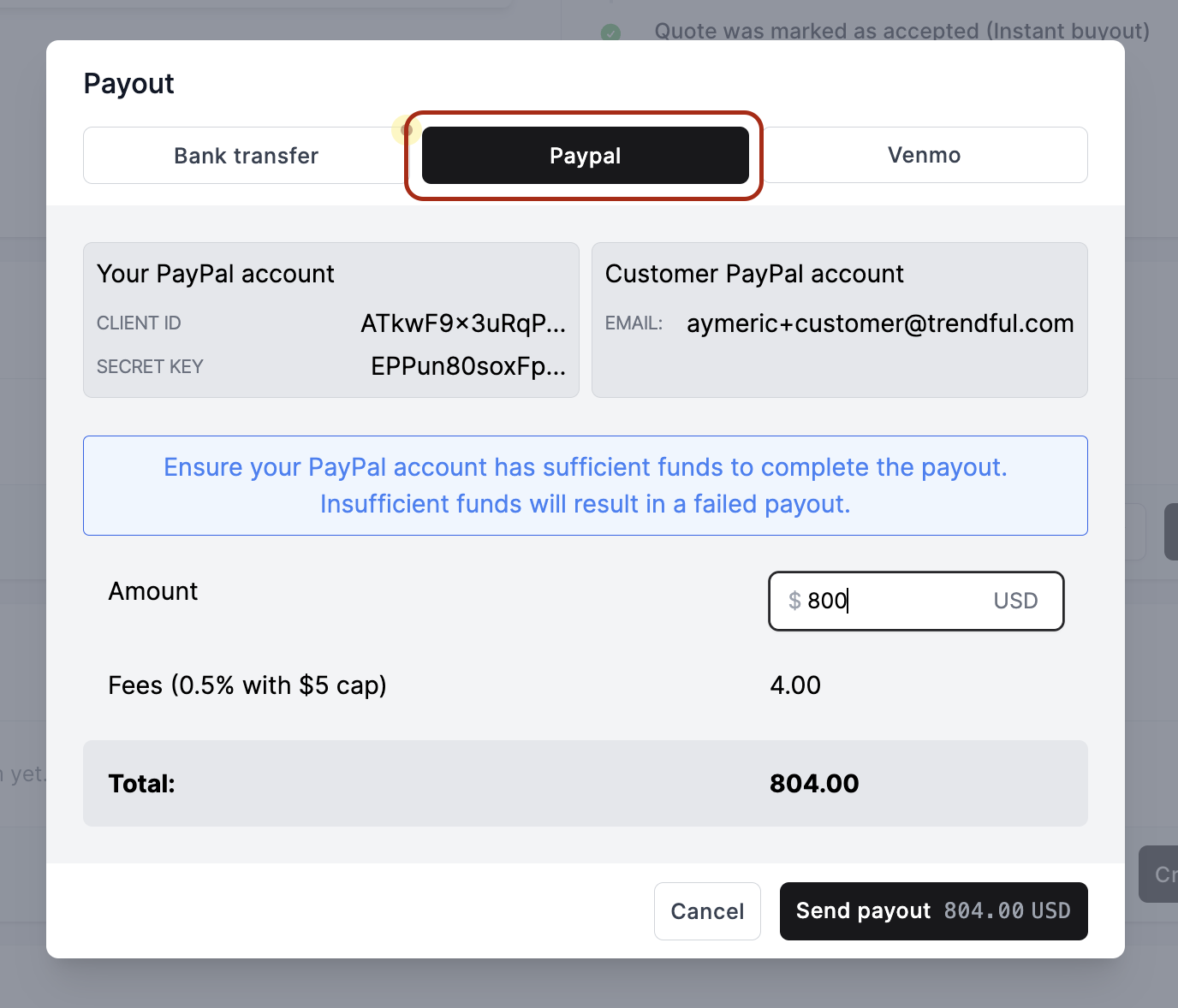 Ensure that the customer has provided the correct payout information to instantly receive their payout. If they haven't added their payout information yet, you can still initiate the payout. The transaction will be processed once the customer or you add the corresponding payout method to their profile.

Verify that your PayPal balance exceeds the payout amount you intend to send. An insufficient balance will result in a failed payout. If this occurs, you will be notified and can recreate the payout once your balance has been adjusted.
You also have the option to adjust the payout amount before sending.
Once you're ready, click 'Send payout'. If the customer has a PayPal or Venmo account, they should receive their payout within a few seconds to minutes. If not, they will receive an email prompting them to create a PayPal account to claim their payout.

On your PayPal Dashboard, you'll notice two payments for every payout sent through Trendful: one directed to the customer and another to Trendful as a commission fee. Currently, the commission fee for PayPal and Venmo is 0.5%, with varying caps depending on your subscription plan. Additionally, PayPal charges a $0.25 fee for each payout.
Managing Customer Payout Information
---
Sometimes, customers might forget to add their payout details. But don't worry; with Trendful, you can send payouts even if the customer hasn't added their payout details. The payout will be automatically triggered as soon as they input their information.
To add their payout information, customers can log into their Resale app account and navigate to My Account > Payout methods section. The customer can add, edit or remove payout methods.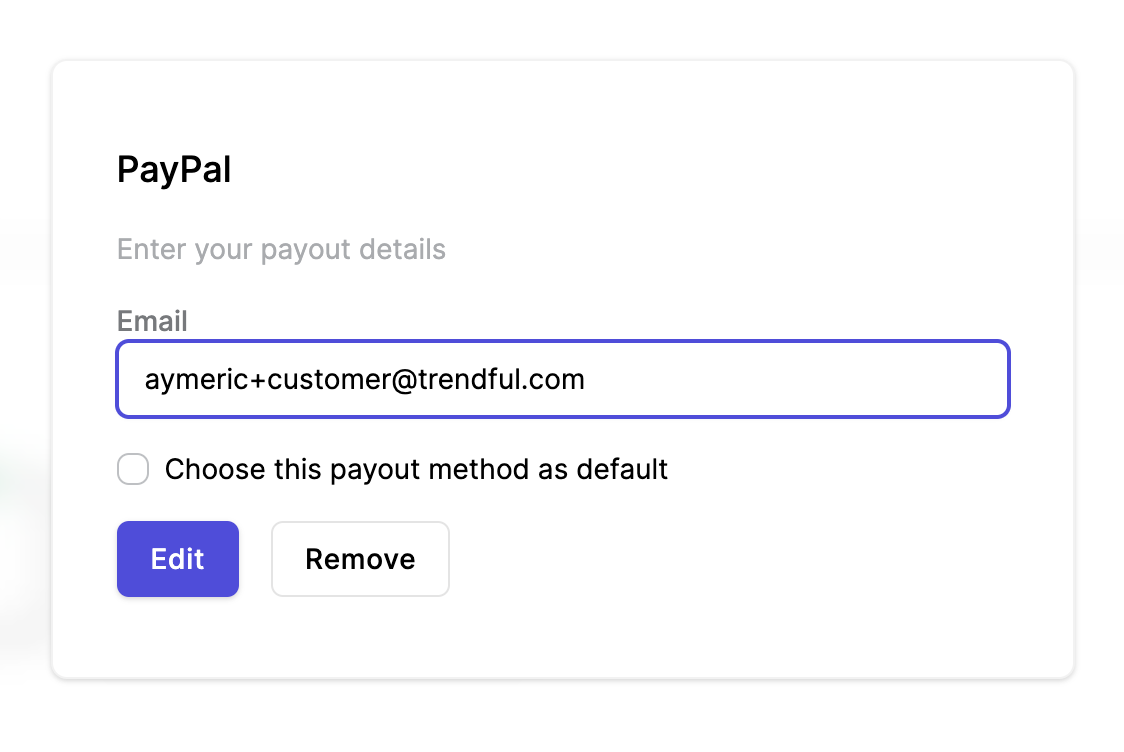 If you'd prefer to manually input their details, visit their customer profile within your CRM. In the Payout Methods section, you'll see the payout methods that have been added, along with their recipient details. To add, edit, or remove payout methods, click on 'Edit Customer'. Once you've made your changes, click 'Save'.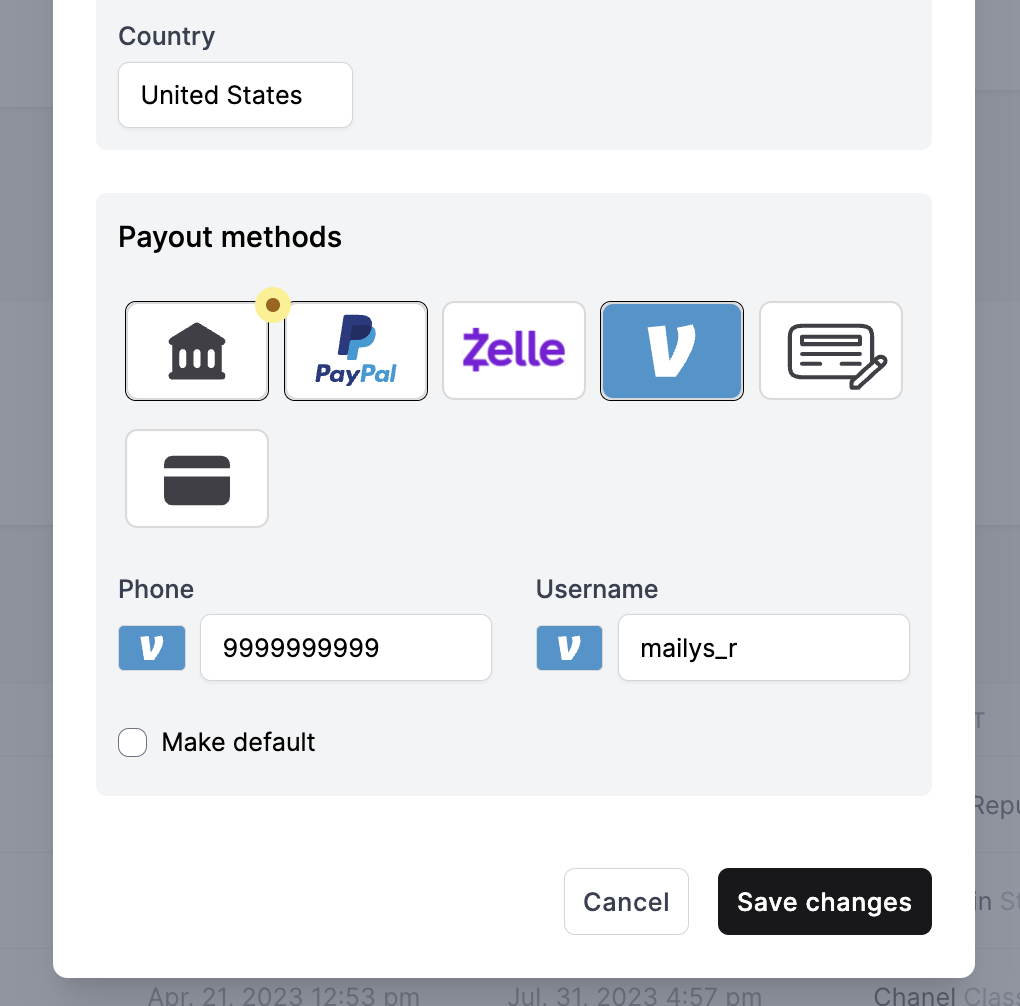 Conclusion
---
Empowering your business with the ability to manage payouts seamlessly can enhance customer trust and streamline operations. By integrating platforms like PayPal and Venmo with Trendful, you're taking a step forward in modern business management.
---