Introduction in how to market with Social Media Influencers
What is influencer marketing?
‍
Influencer marketing is when a business collaborates with an influential person to help promote a product or service. This type of marketing can be particularly useful for businesses in the world of retail, fashion, or beauty.
In the past, businesses would have collaborated with celebrities to have their endorsement. However, today's "social media influencers" can bring value to brands since these influencers have dedicated and engaged groups of followers on various social media platforms. 
According to recent research, more than two-thirds of North American retailers have used influencer marketing to promote their business.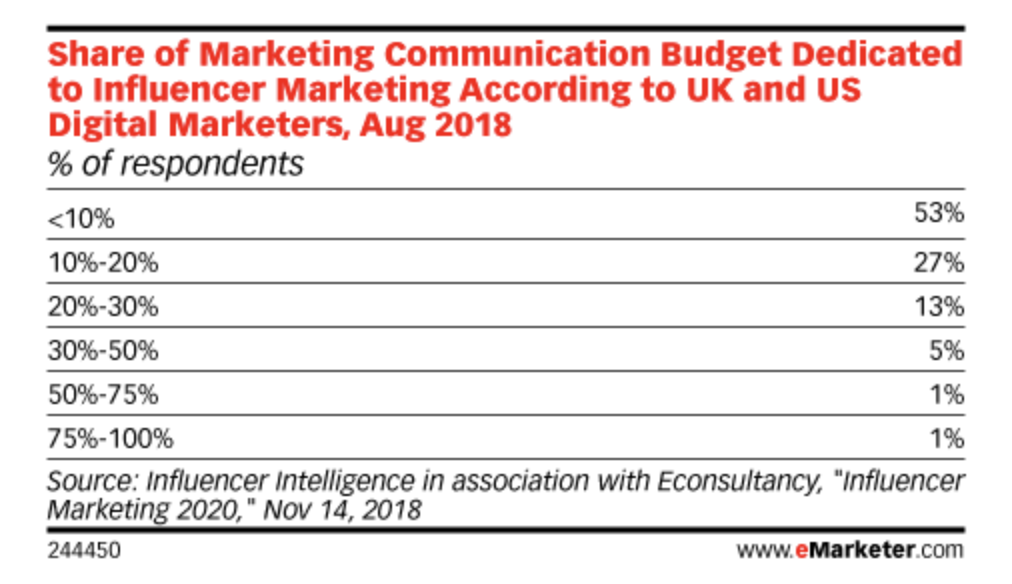 Over half of businesses in the UK and the US dedicate at least 10% of their marketing budget to influencer marketing, and this number is only expected to rise in the coming years. 
Instagram is still the platform of choice for influencer marketing. According to 2019 data from Mediakix, 89% of US marketers said they viewed Instagram as the most important social media platform for influencer marketing. Additionally, Instagram Stories seem to be more popular than Posts with influencer marketing, especially with the ability to have the swipe-up feature for accounts with 10K followers or more.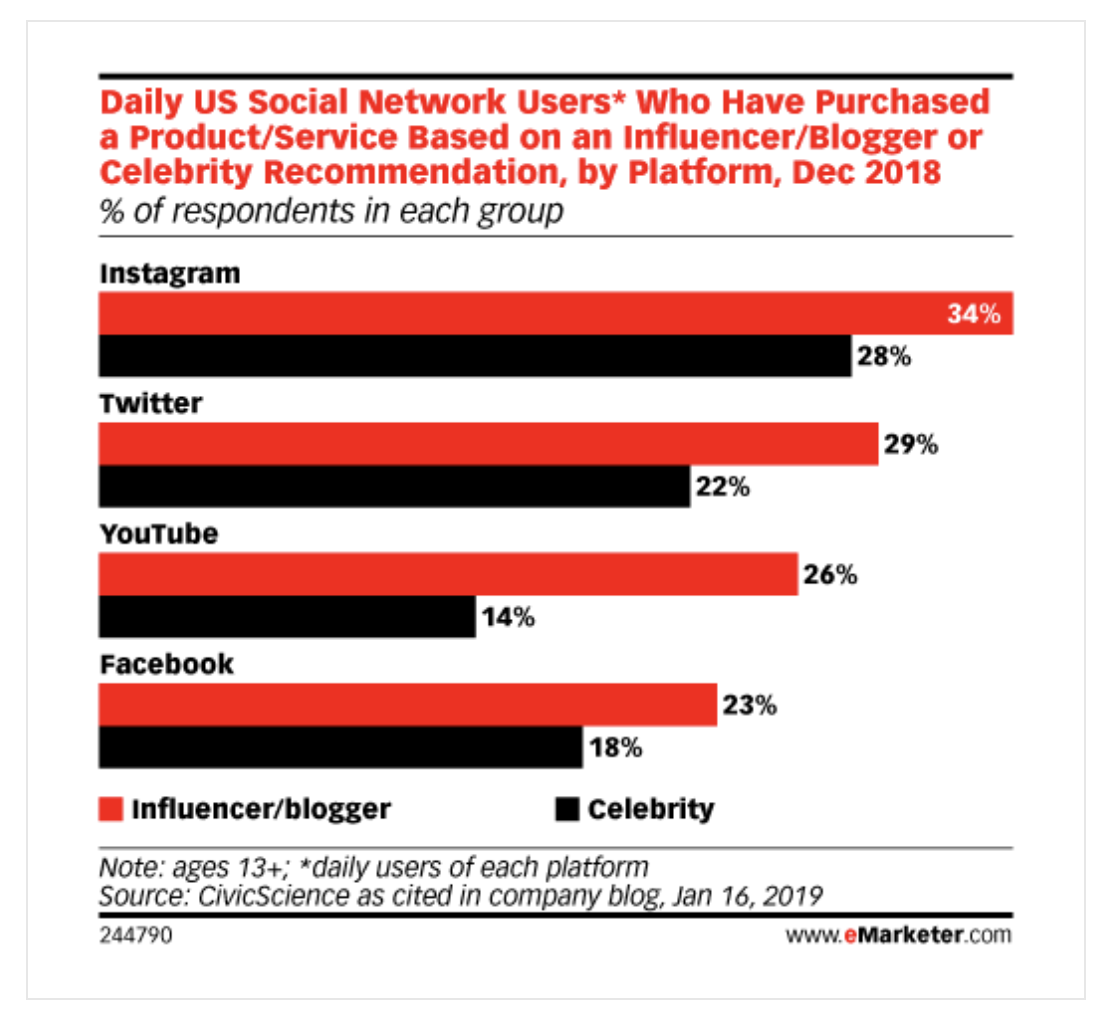 This doesn't mean you should ignore Facebook or Twitter, with 23% and 29% respectively of social media users purchasing a product or service based on a recommendation from an influencer.
‍
What is a social media influencer?
‍
You may be wondering what a social media influencer exactly is, simply this means a person who has influence over others. Influencers are primarily found on social media platforms (i.e. Instagram, Facebook, Twitter).
With social media influencers, a person can use their influence to reach your target audience that helps you build trust and drive engagement. There are tons of influencers out there for your business to choose from and depending on who you choose influencers can have millions of followers. 
The most important thing is that you choose an influencer whose vision aligns with your own.

Since your business deals with secondary market luxury fashion, you will most likely be dealing with influencers who primarily have a following and promote through Instagram.
‍
Choosing the right influencer for your business
‍
The main question you may be wondering is how do you go about finding the right influencer for your business. 
With more than 500,000 active influencers on Instagram alone, it's only natural to feel overwhelmed. In the US, only 39% of companies feel confident in the ability to find the right influencer for their business, according to a Cision and PRWeek survey.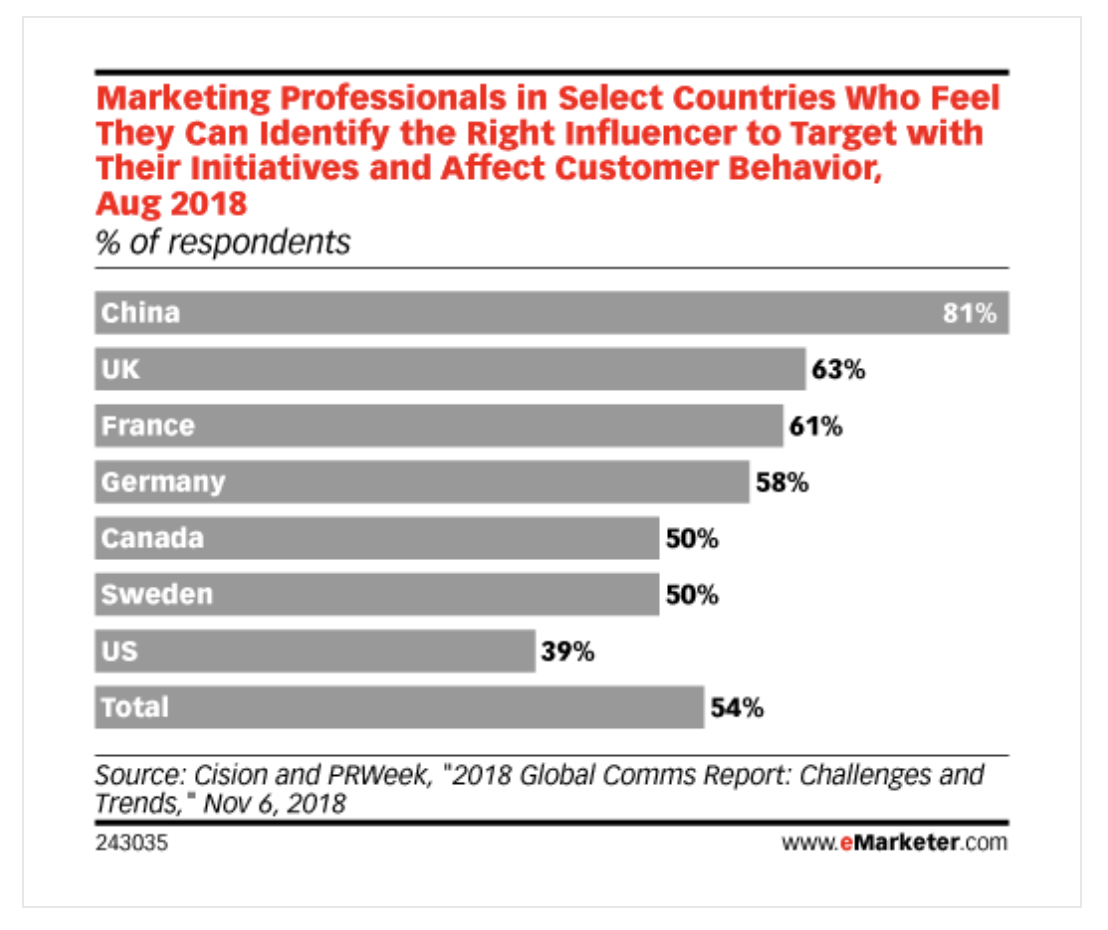 Where to find the right influencer?
Consider the following advice on how to find the right influencer:
‍
Relevance
The first aspect to consider when choosing an influencer is - *"Are they relevant to your company."*‍
A relevant influencer shares content relevant to your business and industry. Therefore you need to understand who your target audience is in order to pick an influencer who has an audience similar to yours. 
For example, if you are a secondary market business is wanting to promote your new customized Resale App you should look for influencers that have the following: 
Interest in designer fashion
Interest in the secondary luxury market
This way the influencer you pick is more likely to have followers that have similar interests and will be more likely to try out your new service. 
When picking an influencer to work with consider selecting one that is local or from your area this way they are likely to have followers who also are from the area. 
‍
Reach
Reach means the number of people you could potentially reach through the influencer's followers.
‍
Potential Engagement
It is important to consider the potential level of engagement an influencer can create for your company with their audience.
Do not think that you need to collaborate with an influencer who has a large following in order to have a high level of engagement. A high follower count means nothing if those followers are not interested in the service or product you are offering. 
Tapinfluence found that businesses had higher engagement rates when they worked with micro-influencers. Micro-influencers typically have 5K-25K followers.
As of a December 2018 Retail report, 30% of retailers now use micro-influencers when marketing their products and/or services.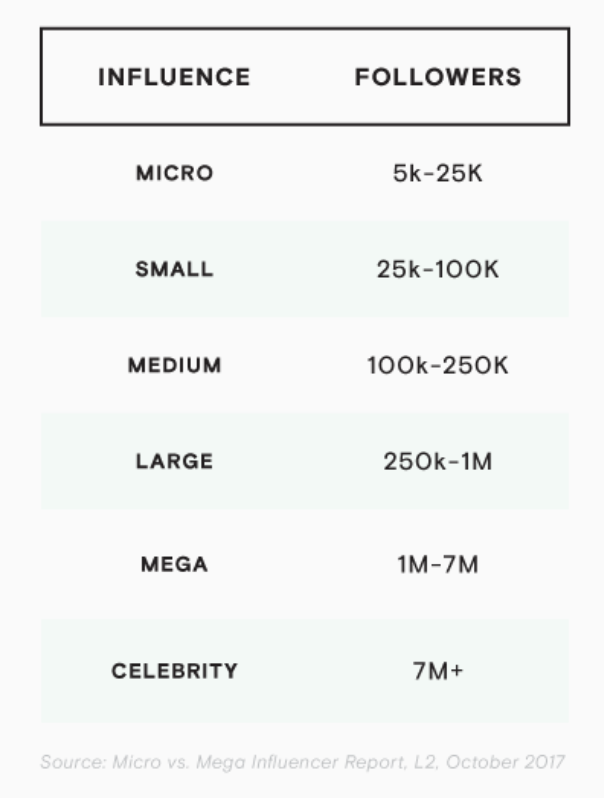 ‍
Know your audience
An important aspect to understand before looking for an influencer is to define your target audience for this marketing campaign. 
Learn more about how to do audience research here. Developing your audience will be great to make sure you understand who you are trying to reach, which in turn will help you select which influencers to choose from.
‍
Choose someone with a look & values similar to your brand
Try to find someone with content that has a similar look and feel to your own. The tone of the influencer's posts should feel appropriate to how you want to present your brand. 
‍
Look for influencers who don't have an over-saturation of sponsored posts
A key question to ask yourself when researching which influencer to try to partner with is - ***Do they have an over-saturation of sponsored posts already on their social media accounts?***‍
If an influencer has an over-saturation of sponsored posts this could result in less, not more engagement. Since there is an over-saturation, their follower base could in turn be less engaged with another sponsored post. 
When finding influencers to work with you want to see that they have a nice ratio of organic content to paid content on their accounts. This means that when they do create paid content with you it will result in more meaningful engagement for your company.
‍
Research influencers
When just starting out, you should try to keep an Excel or list of relevant influencers you would like to try to work with. Start by looking through accounts that either you are already following or that are even already following you! Otherwise, if you have worked with influencers in the past, you can always ask them for recommendations on other accounts to work with too!
Some questions to ask yourself when researching influencers:
How many followers do they have? (Depending on your follower count & whether or not this is your first time working with an influencer, try working with one who has 10K or fewer followers).
Where are they located? Are they local to you? (In the beginning, try working with influencers local to your area. They could in turn be more invested in working with a local business).
How many likes or comments do they receive per post? (The more likes or comments shows that they have an engaged following.)
What kind of aesthetic or connection does the influencer have with your target audience? (For example, if you are marketing the Resale App, you want to work with influencers who either have a focus on fashion, sustainability, and/or the secondary luxury market).
‍
Plan your budget
Remember to plan out your budget with the influencer you would like to work with. Don't expect influencers to work with you for no pay! 
Nano-influencers might be more flexible with accepting products in exchange for collaborating with you. However, with micro-influencers, they will expect to be paid for their work.
Some things to consider when planning out your budget:
What type of campaign are you wanting to do?
How long do you want your campaign to run?
Do you want a post? If yes, how many?
Have you considered if you want Instagram Stories as well?
Those questions will help define your budget. And even then, instead of a flat fee, you could offer to pay them with an affiliate commission.
‍
Reach out privately
Make sure to reach out to the influencer privately. You can try by sending a direct message on Instagram, but try to write a personal message. This way it can show that you are trying to personally connect with them and are in turn serious about collaborating with them.
When messaging them, try to be as transparent as possible. Tell them what the campaign would entail, your goals with having the campaign, and what they can expect to make from working with you.
‍
Advice on what to pay your influencer
‍
Deciding what to pay an influencer can be a confusing process. There is not a clear-cut resource that can tell you exactly what to pay influencers. 
See below for some ballpark suggestions on what to pay your influencers:

Some influencers may even have a press kit that defines their rates and the type of collaborations available. Another basic conversion would be to pay the influencer $100 per 10K followers.
Of course, what you end up paying would ultimately depend on what type of campaign you want and how big of an influencer you collaborate with. Keep in mind that if you offer too little payment to the influencer, they may give you a counter-offer.
Other factors that could affect influencer pricing: usage rights, production fees, agency fees, campaign length, timing, exclusivity, and brand fit.
‍
What type of campaign can you do with influencers?
‍
Marketing campaign - is a planned sequence of activities and processes which promote an individual product or service. 
Types of content that can be included in your campaign: 
Instagram Post
Standard sponsored post typically includes a photo and a caption. If you want a service promoted the right caption is crucial.
You can easily track performance through the post.
The influencer can tag you in the photo.
An Instagram post promotion can be reinforced with Instagram stories.
Instagram Slideshow
A slideshow post is a bit different than a standard post since more photos are involved.
However, the slideshow allows for more of an in-depth storytelling narrative.
Instagram Video
Video can be a great way to give voice to the influencer and can be a compelling way to advertise to their followers.
You can always work in video teasers or behind-the-scenes videos into your marketing campaign. This can build up anticipation around your new product and/or service you are promoting.
Instagram Giveaway or Contest
This can be a great way to grow your follower base and create more brand awareness.
With this concept, you could provide a free product or even a gift card for the contest.
Rules typically involve commenting, tagging a friend on a post, and/or following your account.
A giveaway can be promoted using a post and reinforced with Instagram stories.
Instagram Stories
These are videos or photos that last only 24H and then disappear.
The great thing about stories is that they can be more casual and authentic to followers.
It's really great to include stories in tandem with an Instagram post.
Another important aspect is that if you are working with an influencer with 10K followers or more they have the "swipe-up" feature.
IGTV
It's a great way for long-form videos on Instagram.
You can have clickable links.
There can be increased costs with this type of marketing activity since it can have higher production costs involved.
‍
Example campaign
Description
3 Instagram stories per day (3 frames each) for 3 days totaling 9 frames
1 Instagram post
The influencer will provide the Brand (you) analytics from the Instagram stories
The influencer will let you know the days they will do the stories
Term
The Influencer will work collaborate the Brand for the month
3 days out of the month the Influencer will do Instagram stories
1 day out of the month Influencers will create an Instagram post that will not be deleted within one year following its publication
The content should clearly identify the Brand stating its name and tagging its official Instagram account
Influencer may choose which days work best for the Instagram stories and post
Beyond the discussed 3 days of stories and post, the influencer is free to publish any additional content, featuring the Brand and its product/service - with respect to the Brand's intellectual property
‍
What are the benefits of influencer marketing?
‍
Some benefits include:
They can increase your credibility and trust for the product or service you are promoting.
You can grow your brand awareness and maybe increase your number of followers.
They can allow you to reach a wider audience.
‍
Measure your campaign results
‍
Make sure to have the influencer send you their metrics so that you can measure the results of the campaign. It is important that the influencer sends you detailed reports on the reach and engagement levels of their posts. This is especially important for Instagram stories since this engagement is not seen by the public.
Don't be shy to ask for metrics, it's a way to make sure you are not experiencing influencer fraud.
‍
Influencer Marketing tips
‍
When creating a marketing campaign with an influencer make sure you understand the rules with influencer marketing according to the Federal Trade Commission.
Here are a few tips to consider when using influencer marketing from the FTC:

Conclusion
‍
You may still be feeling overwhelmed about creating a marketing campaign with an Influencer. The most important thing to do is to start off small to see what works for your business. 
Remember to define your marketing goals and try to find influencers with less than 10K followers who are local to your area. This type of marketing can be great to grow your brand and increase your engagement and credibility with your target audience.
For your convenience feel free to use our downloadable Influencer Marketing Agreement template here.
‍
Sources:
Cabrera, Pauline. "5 of the Most Useful Ways to Work with Social Media Influencers".
Cruz, Francesca (May 16, 2018). "Influencers: Micro & Macro".
"Do Retailers in North America Use Influencers?" (November 2018). eMarketer.
Droesch, Blake (February 14, 2019). "Influencers and Instagram Stories: A Perfect Marriage?" eMarketer.
Droesch, Blake (March 5, 2019). "Is Everyone on Instagram an Influencer?" eMarketer.
Droesch, Blake (March 24, 2019). "What Retailers Need to Know About Influencer Marketing". eMarketer.
"How Many Influencers Are There? New Data, Calculations & Charts". MediaKix.
Newberry, Christina (May 2, 2019). "Influencer Marketing Guide: How to Work With Social Media Influencers". Hootsuite.
Sehl, Katie (May 4, 2019). "The Complete Guide to Instagram Influencer Rates in 2020". Hootsuite.
---