Introduction to the different tools you can use for marketing
Introduction
As discussed in our guide, Introduction in how to market the Resale App, with any new feature or tool you add to your website, it is ultimately your marketing and sales approach that will determine its success. While having a reselling interface that automates pricing, shipping, and payments in order to acquire more pre-owned inventory from your customers is critical - your customer adoption of the Resale App depends on awareness, discoverability, and education.
So you know you want to try to successfully market your new reselling feature, the question now is what tools are out there that can help you with your marketing strategy. 
This guide explores the different marketing tools that can turn your advertising ideas into reality. We will look at social media management, content creation, email marketing, printed material tools.
‍
Social media management tools‍
***What is a social media management tool?***‍
Social media management tools can enable businesses to automate, analyze, and have more control, so you can focus on creating better content or even other aspects of your business. 
With these apps, you can post the same content across all your social media accounts, schedule future posts, and even give you suggestions on the most appropriate/effective content to post and the times to post it. And the great thing is that you can control all this usually through just one app.
Here are just some of the many social media tools out there that can help your business: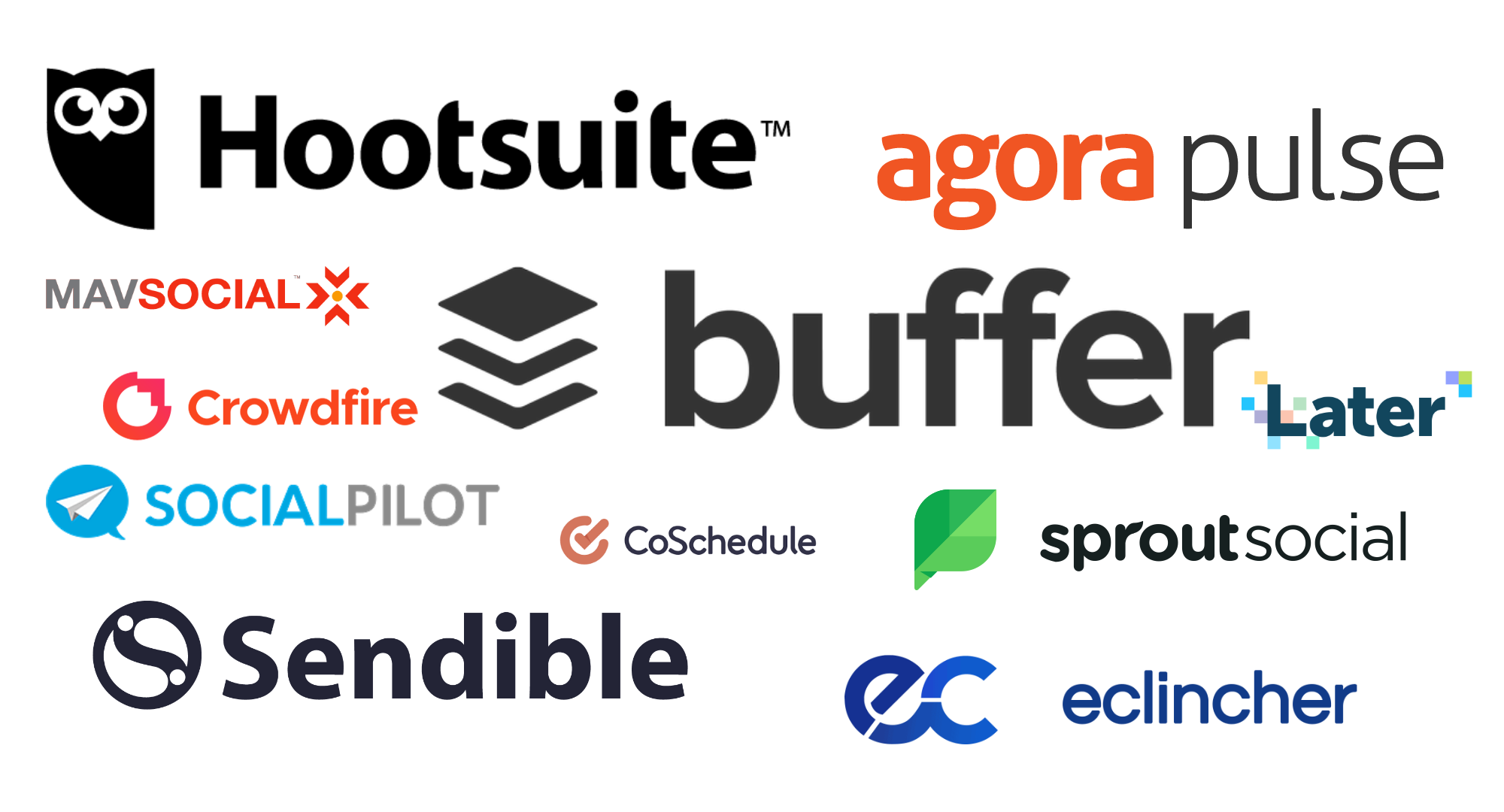 Let's now dive a bit deeper into five social media management platforms you could use for your business!
‍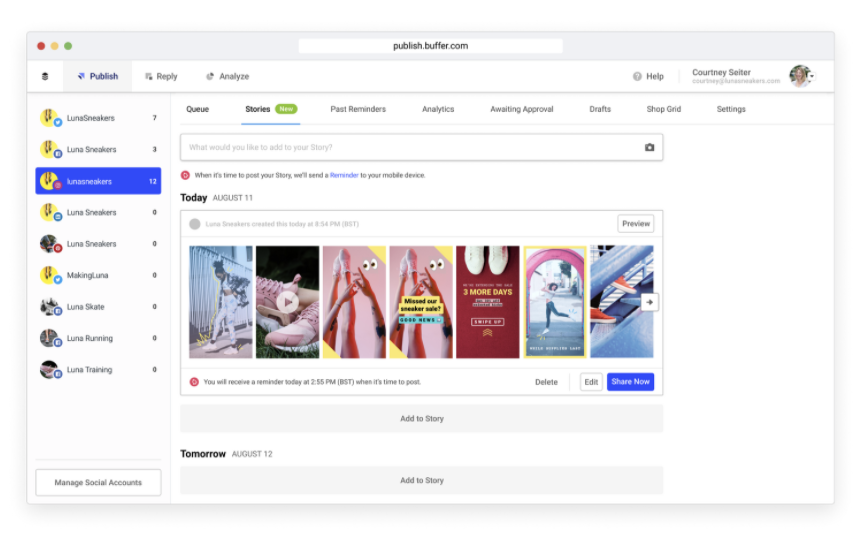 Pricing: free plan, $15, $65, $99 per month (with a 14-day free trial)
Buffer is one of the longest-running social media management tools with its aim at primarily helping you to schedule posts. With Buffer, you can connect Facebook, Instagram, Twitter, and Linkedin accounts. You can also connect your Pinterest account if you are a Pro plan user.
When you start to upload posts to Buffer, they will suggest a schedule with different time slots for you to choose from, otherwise, you can choose your own schedule and custom time to post as well. 
The great thing about Buffer is that it is very easy to use and includes desktop, mobile or browser extensions. The downside is that this does not include in-depth analytics if you want a deeper look at your analytics and engagement metrics that would be an additional $35/month or $50/month depending on which additional plan you choose.
‍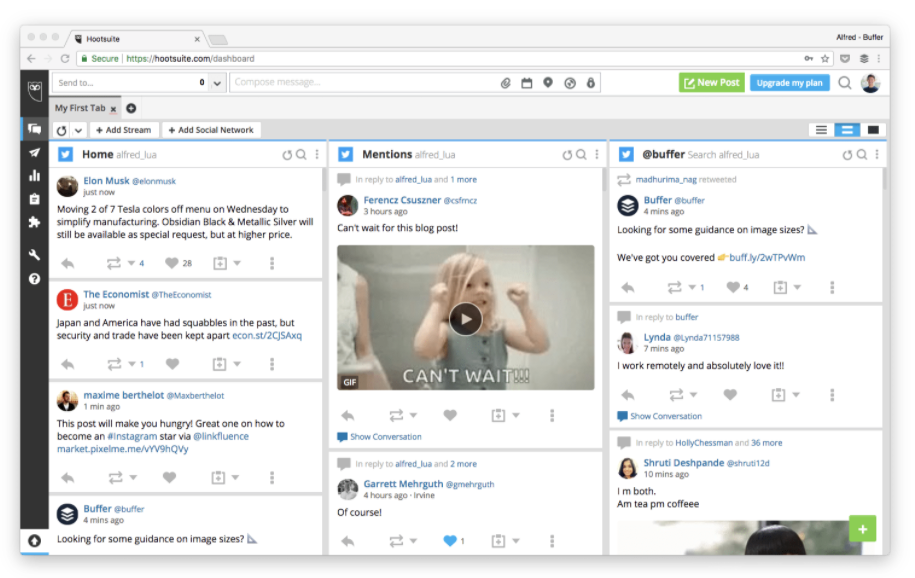 Pricing: free plan, $49, $129, $599 per month, also have enterprise pricing (with a 30-day free trial)
Hootsuite is another great solution for your social media management. It works with over 35 social media platforms, including, Facebook, Instagram, Twitter, YouTube, and Pinterest. You can access Hootsuite through desktop, browser extensions, and a mobile app.
With Hootsuite you can also schedule posts choosing dates and time of your own choosing, otherwise, you can also choose to utilize their AutoSchedule function. Another important aspect is the analytics they can provide you, which allows you to generate reports of how your posts are performing.
‍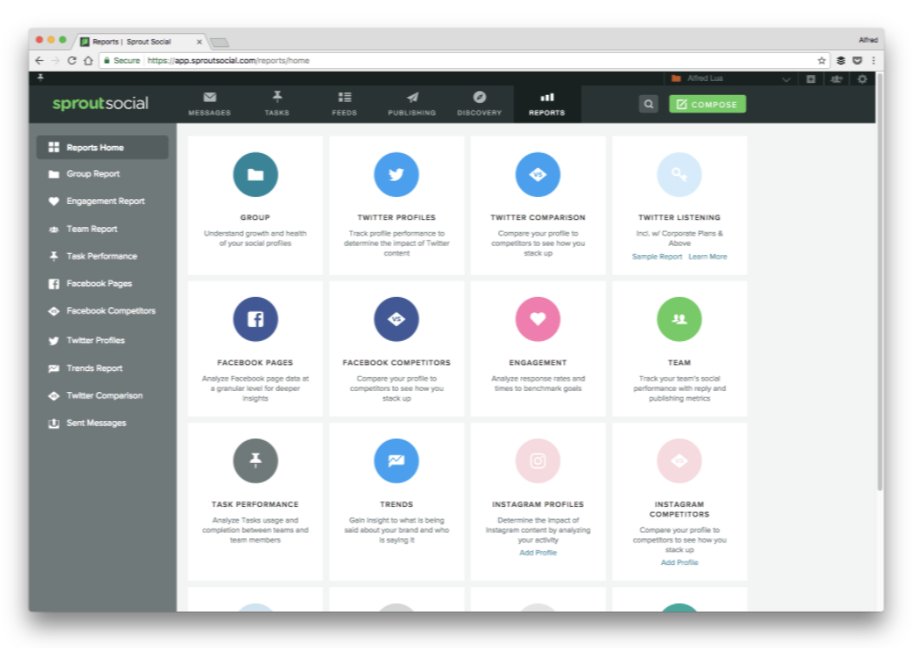 Pricing: $99, $149, $249 per user per month (with a 30-day free trial)
Sprout Social is in many ways similar to Hootsuite, they combine several social media tools into one platform. You can schedule, monitor, and generate reports. With Sprout Social, you can connect your Instagram, Facebook, Twitter, Linkedin, YouTube, Pinterest accounts. 
One of the unique aspects of Sprout Social is that it also provides customer relationship management (CRM) features. This allows you to have a complete idea of your type of customer and to in effect create content that grows stronger relationships with your audience.
‍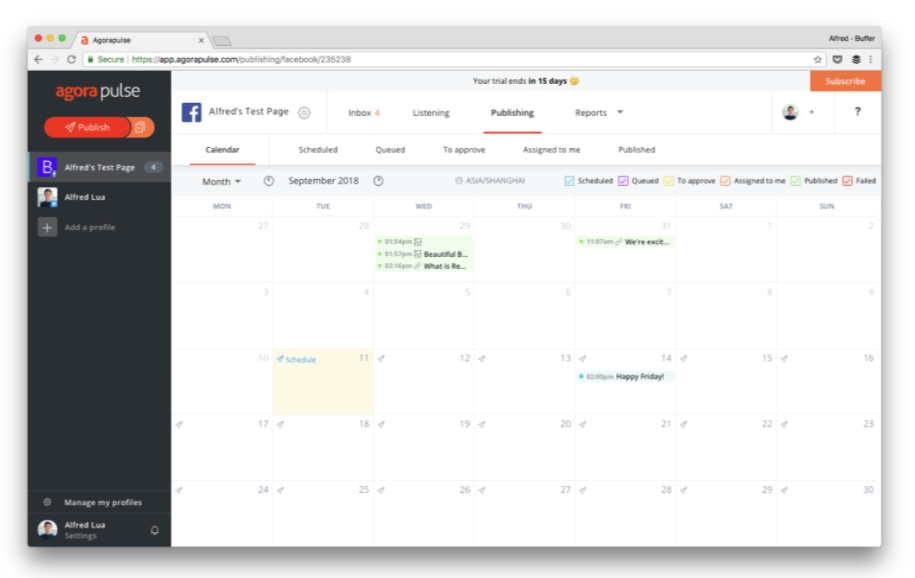 Pricing: free plan, $79, $159 per month, also have enterprise pricing
AgoraPulse is also similar to the social media management tools mentioned above. With AdoraPulse, you can schedule, respond, and have reporting features. It also works with your Facebook, Instagram, Twitter, Linkedin, and YouTube accounts.
In addition to scheduling and engagement features, you can add more detailed reports starting at $29/month, create shareable calendars starting at $15 per calendar/month, and generate Facebook competition reports starting at $5 per competition/month.
‍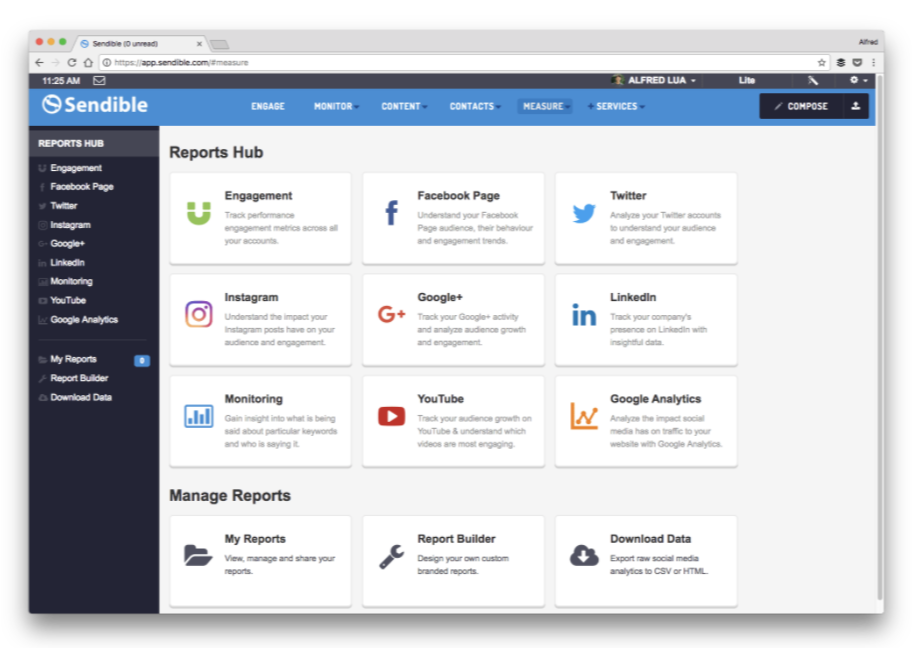 Pricing: $29, $99, $199, $299 per month, also have enterprise pricing (with a 30-day free trial)
Sendible is similar again to the social media management platforms mentioned above, however, it is more gauged towards agencies with several clients rather than small businesses. With Sendible you are able to connect your Instagram, Facebook, Twitter, Linkedin, Pinterest, YouTube, etc.
Interesting features with Sendible are that it has sourcing content integrations as well as dashboards you can create geared towards your clients.  
Some other popular social media management platforms include - eClincher, SocialPilot, Coschedule, MavSocial, and Crowdfire. 
Whatever social media management platform you choose to utilize for your business, the most important thing is that it helps you save time and optimize your marketing efforts.
‍
Email marketing tools
Marketing trends and the channels in which you connect with your customers may change over time. However, email marketing is a way to connect with your audience that remains generally unchanged by marketing trends. In fact, email marketing continues to be the top channel for reaching out to your customers. 
As with any marketing strategy whether it's through email, social media, Google AdWords, or a blog the goal is for each one to amplify one another and in effect amplify your business. However, one of the challenges businesses face is creating great emails from scratch without knowledge of HTML. 
Luckily there are a lot of email marketing tools out there that can help you create great-looking emails for your business with no knowledge of HTML needed.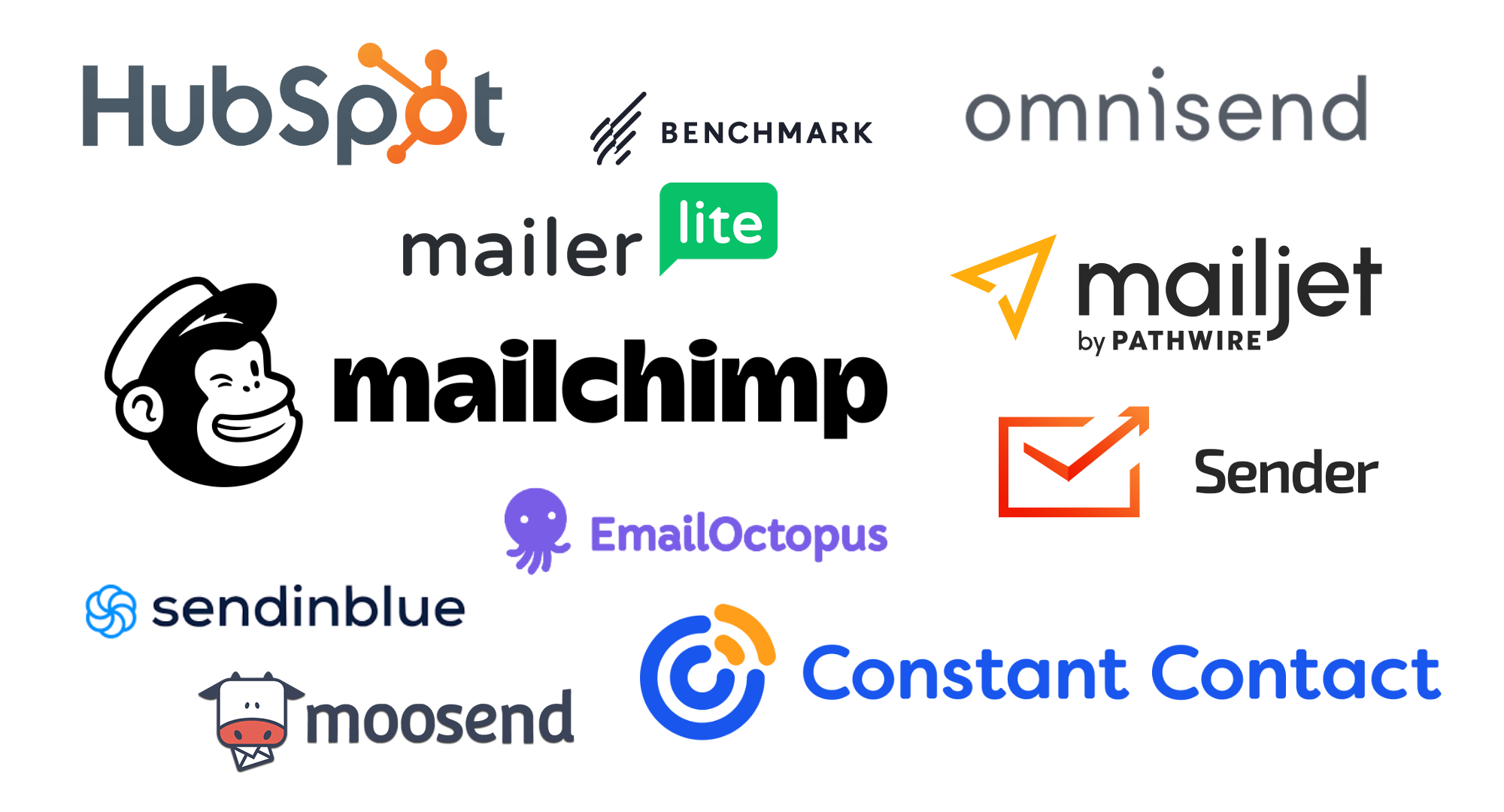 Read below to find out more about five different email marketing tools:
Pricing: free plan, starting at $9.99, $14.99, $299 per month
Mailchimp is probably an email marketing tool that you have heard of before! They have a free plan that enables you to create and schedule your emails. You are able to work from their templates and their content manager allows you to store all the photos or files in one place for your emails. 
‍
Pricing: starting at $20, $45, $195 per month
Constant Contact is another big name in email marketing, they have a smart email editor that allows you to easily design emails the way you want.
They also have email marketing automation, e-commerce, and other social marketing tools. And of course with Constant Contact, you can track your results in real-time.
‍
Pricing: free plan, $46, $172 per month
Sender is another great option to fulfill your email marketing needs. Simply choose a template and customize it with images, videos, and/or text. A big benefit is that you can personalize your newsletters for each recipient. 
Another plus is the analytics they provide your business, including being able to track emails opened and clicked.
‍
Pricing: free plan, $25, $65 per month, also have enterprise pricing
Sendinblue is an option that really includes more than just email marketing. You still have over 70 design templates to choose from. However, Sendinblue also includes contact management, transactional platform, marketing automation, and reporting. 
An interesting aspect they have with their email marketing is the ability to do A/B testing to optimize campaign engagement.
‍
Pricing: free plan, $16, $99 per month, also have enterprise pricing
Lastly, there is Omnisend you can choose for your business. The free plan allows you access to their email marketing, content editor, targeting, and reporting tools. However, the other plans allow for marketing automation, more in-depth integrations, and marketing other tools. 
Other great email marketing tools to check out include - HubSpot, SendPulse, Benchmark Email, MailerLite, Mailjet, Moosend, and EmailOctopus. Otherwise, if you already use Shopify for your online store, then they recently released Shopify Email.
‍
Content creation tools
So now we have had a chance to dive deeper into social media and email marketing tools you can use for your business. We will now discuss the different content creation tools you can use to help your company create the actual content you want to post to your social media platforms or website. 
As with the social media and email marketing tools, there is a myriad of content creation tools out there for you to try out. Of course, to create your own great digital content you don't need to spend a ton of money. There are plenty of amazing content creation tools that have free plans for you to utilize.
Let's take a look at some of the tools your business could use to create digital content for your marketing strategy:
‍
Pricing: free plan, $9.99 (14-day free trial), $19.99 per month, also have enterprise pricing 
Adobe Spark is a quick way to create digital content for your website or social media platforms. You are able to choose from thousands of free images and templates to help you create or inspire your content. 
You can design new content via desktop or with their mobile app. Of course with the paid plans you have access to more features and templates than you can get with the free plan.
‍
Pricing: free plan, $12.99 per month, $30 per month per person
Canva is a great tool for businesses wanting to create digital content for their website, social media platforms, or even blog articles. It is a really simple to use tool with over 100K free templates, photos, and graphics.
A really great aspect of Canva is that you can invite team members to collaborate on the work you are creating. With the paid plans you get access to more cloud storage, control over your team workflow, and even social media post scheduling.
Additionally, with Canva you can design your content on your desktop or on their mobile app.
‍
Pricing: free plan, $2.99, $12.99 per month
Unfold is a great mobile app geared towards social media marketing. With Unfold there are templates that you can easily customize with photos or videos and text. 
The paid plans do include access to more templates and photo editing tools. However, the free plan does have plenty of basic templates and fonts for you to be able to create quick content for your social media marketing.
‍
Pricing: free plan, $9.99 per month
Mojo is a mobile app similar to Unfold that allows you to create animated stories for Instagram, TikTok, or Snapchat. With this app, you have hundreds of templates to choose from that you can easily add your own photos or videos to.
Another great aspect is that you can add music directly from the app to the content you are creating. 
‍
Pricing: $39.99 one time fee
If you want to have a more advanced tool for creating digital content for your business, then Pixelmator is a great option. It's an easy-to-use image editor for Mac. Pixelmator includes everything you could ever need to edit and retouch your photos, create designs, draw vector illustrations, paint, or sketch. 
This is definitely an option for businesses that want more control over the design of their digital content. 
‍
Pricing: $20.99 per month
Photoshop is definitely a tool that you have heard of before, to edit and retouch your photos. However, it is more geared towards professional designers. In general, Photoshop has a lot of the same standard features as Pixelmator, although Photoshop does have more advanced features like editing pictures in RAW. 
Additionally, Photoshop can work with Mac or Windows computers, while Pixelmator only works with Mac.
Some other resources to consider with creating digital content are free not copyrighted images like Unsplash or Pexels. Overall there are a lot of content creation tools out there for you to try out for your business from really simple and quick to use like Unfold to the more advanced Photoshop.
‍
Printing material tools
While most of your marketing strategy these days is probably focused on the digital world. Printed marketing materials from flyers to business cards can play an important role in helping to market the Resale App.
In addition to printing your marketing materials at your local FedEx, there are many online printing services for your business!
‍
Vistaprint is considered the best online service for printing due to its streamlined process and ability to print just about any product for affordable prices. 
You can print business cards, brochures, postcards, flyers, mugs, coasters, magnets, posters, signs, banners, clothing, and much more. ‍
‍
MOO‍
Moo offers a very similar range of printed materials as Vistaprint, however, whereas Vistaprint focuses more on quantity, Moo focuses more on quality. Therefore, Moo's prices tend to be higher than other companies. 
Overall, Moo is best known for its business cards, although they also offer a range of marketing and promotional materials.
‍
Snapfish is a great option for photo printing with its easy to import photo option. A huge plus is that same-day pickup is available in select locations.
Canvaspop is another option for printing your photos on canvas. The ordering process is simple, however, the review process can be a bit slow, since each order is reviewed by a real person.
‍‍
Conclusion
If you made it to the end of this guide, then congratulations are in order! There are so many different marketing tools you can use for your business that it can seem overwhelming at first.
The most important thing is that the marketing tools you choose to use make your life easier and help to amplify your go-to marketing strategy. If you are just starting to dive into your company's marketing potential there are some great beginner tools out there with free plans so that you don't have to spend a ton of money to improve your marketing skills.
---