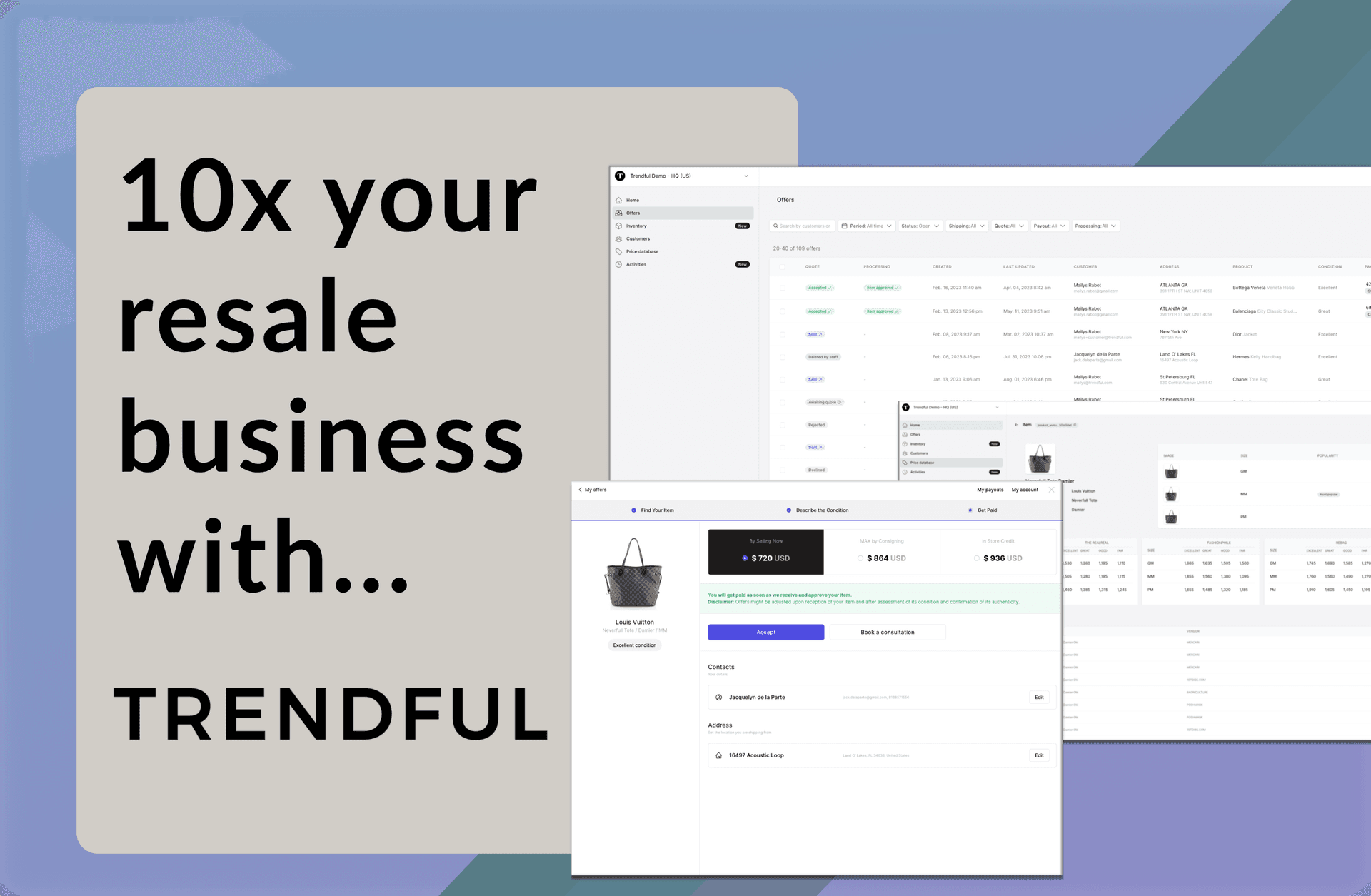 The resale industry has witnessed an explosive surge in popularity over recent years. For businesses, this burgeoning sector offers both challenges and opportunities. The challenge for these businesses is to scale and streamline operations efficiently.
The opportunity? Massive growth potential.
Enter Trendful's advanced resale software, the game-changing solution that is enabling businesses to see a remarkable 30% month-over-month growth. Let's dive into how this innovative software is reshaping the resale landscape. 
‍
An Integrated Ecosystem: Trendful's All-In-One Software Solution
Traditional resale operations involve juggling multiple software tools to manage inventory, customer relations, pricing, and more. This can quickly become cumbersome and inefficient. Trendful addresses this pain point by consolidating all these functions into one comprehensive software solution. Here's what you can expect:
‍
The Trendful Admin: Your Back Office Powerhouse
Offer Management System (OMS): Seamless syncing of offers from the Resale App or by manually drafting offers. This includes a suite of features such as creating and editing offers, sending quotes, creating shipping labels, sending payouts in 1-click, and much more.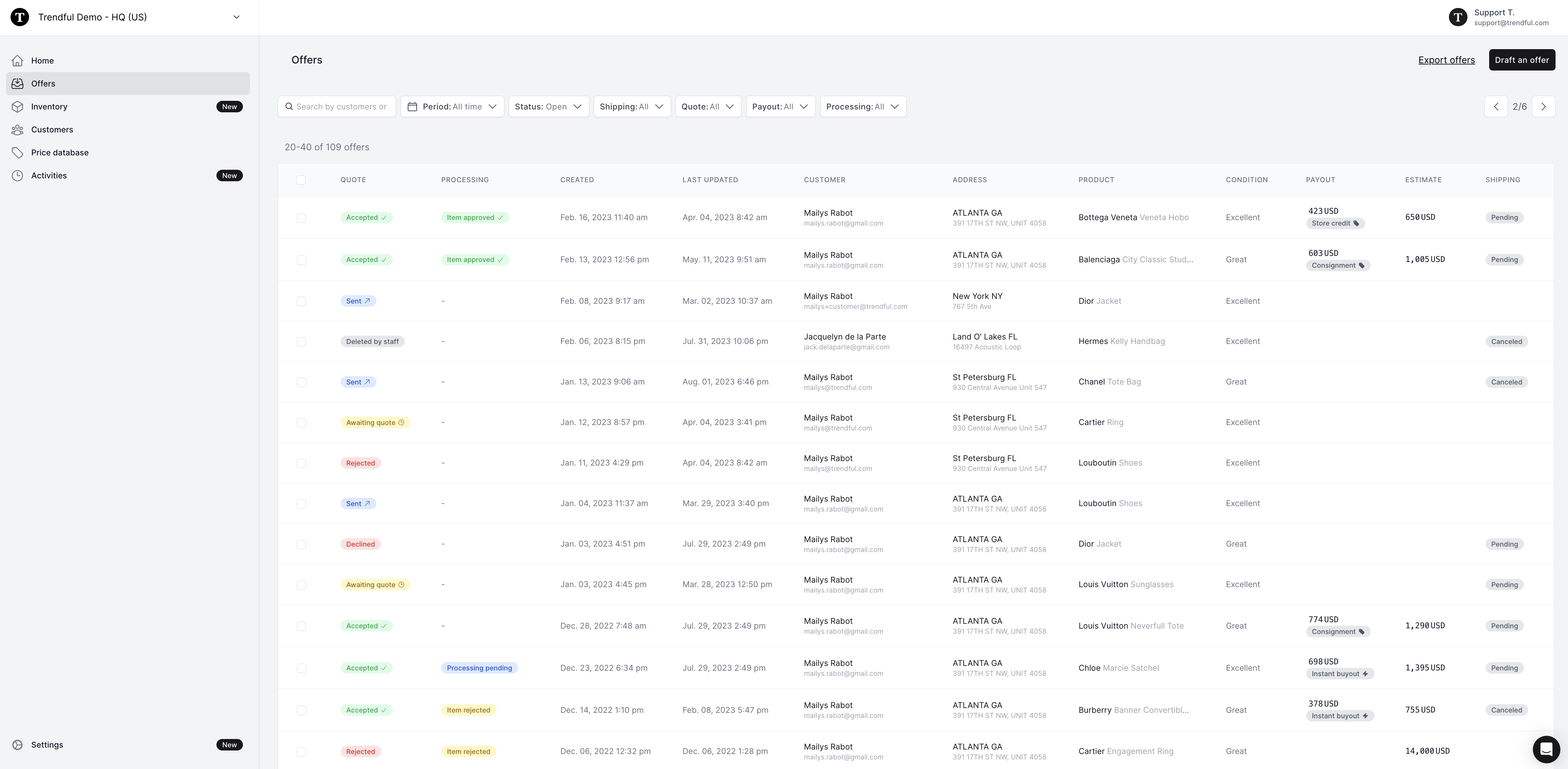 Overview of the Offer Management System

Example image of search/filtering feature

Example image of archiving offer feature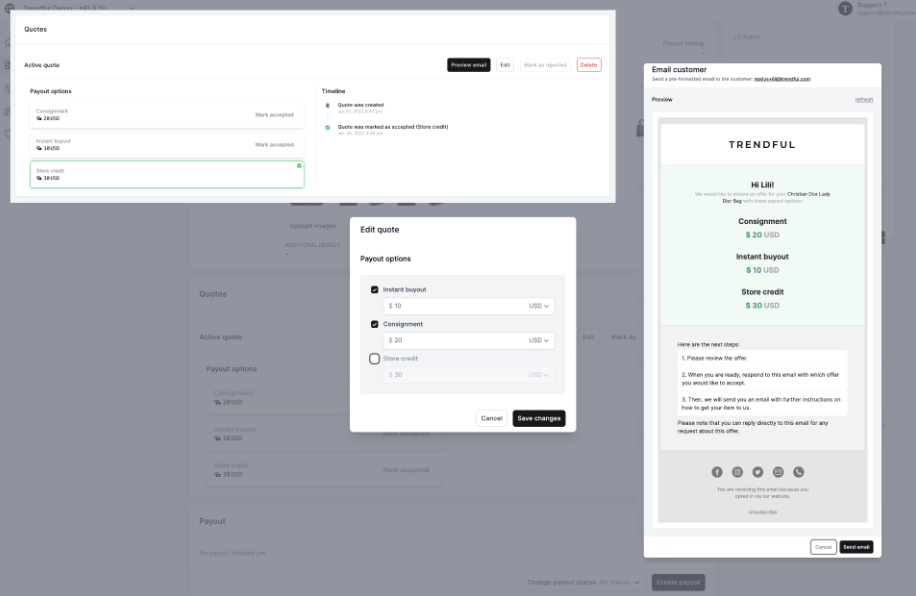 Example images of sending a quote to a customer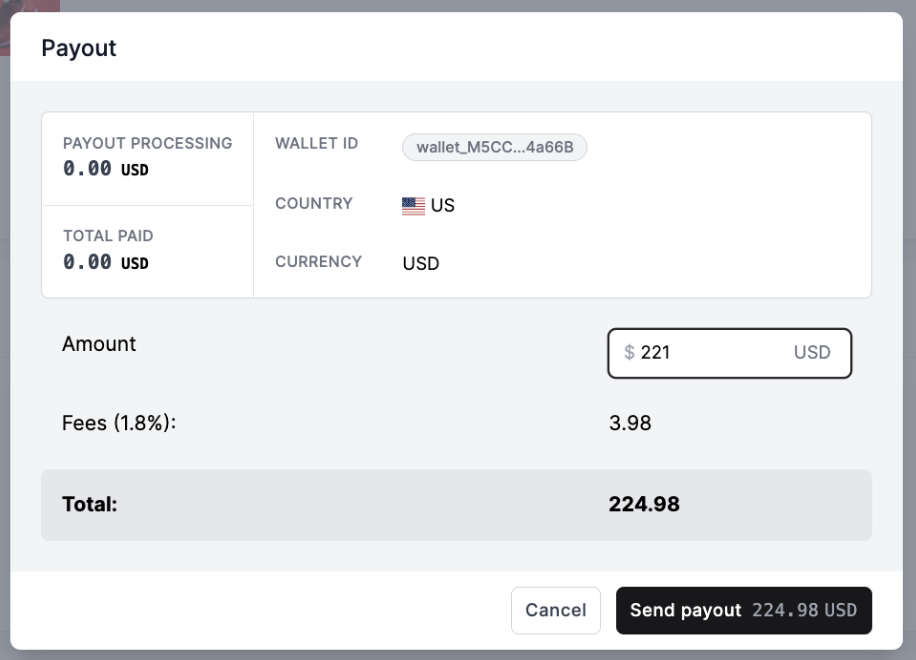 Example image of sending a payout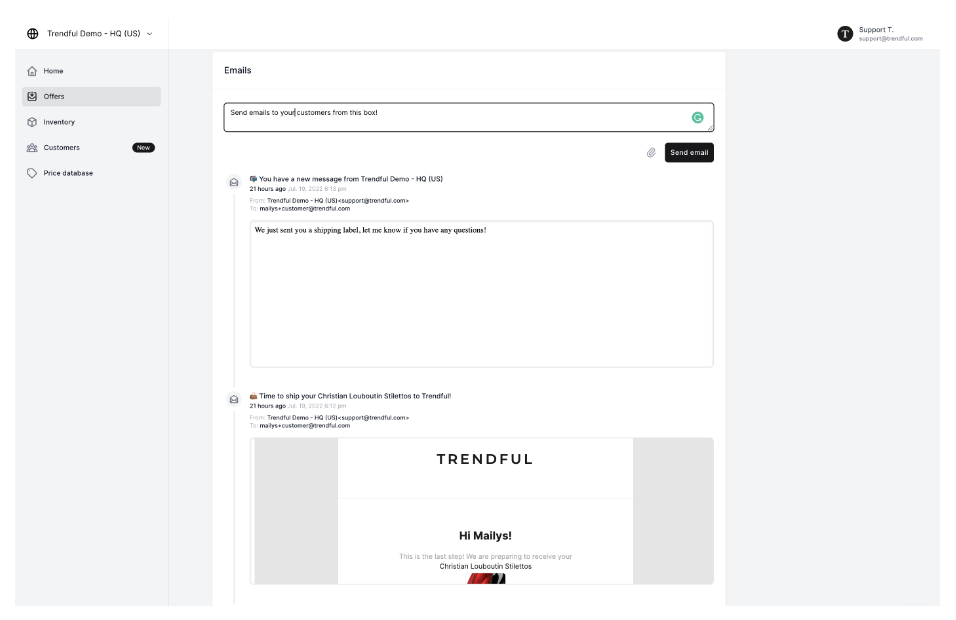 Example image of how to send an email and the email thread* Inventory Management System (IMS): Quickly add products in 1-click from the OMS and if utilizing Shopify products can be listed in 1-click to the online store and customers can receive automatic emails when an item sells. Other IMS features include creating and editing products, sorting, filtering, and archiving products, and also exporting and listing products.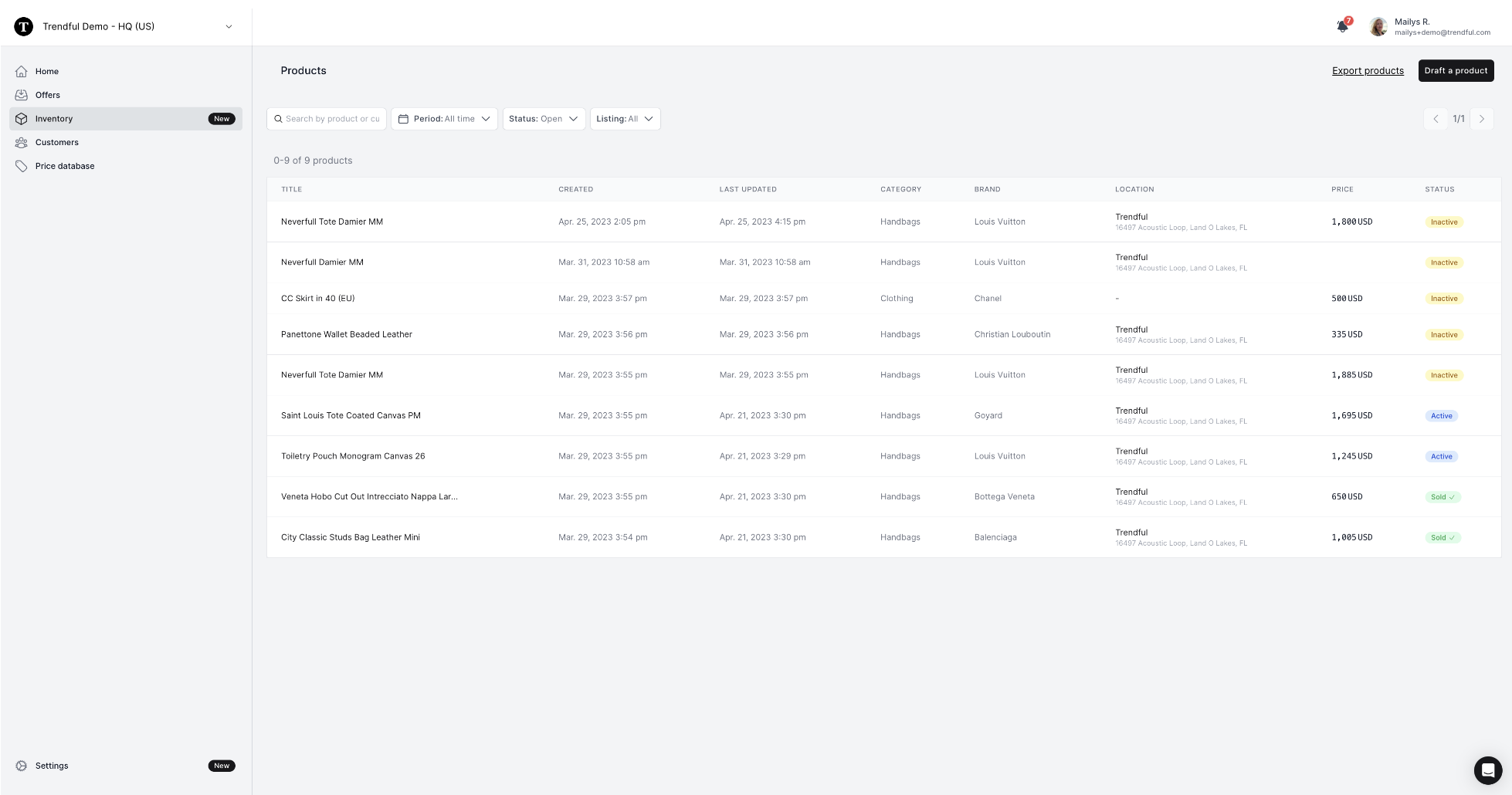 Overview image of the Inventory Management System

Example image of the feature to add an offer to the inventory

Example image of a product listing in the Inventory Management System

Example image of where you can list in 1-click the product to Shopify

Example image of the CVS you can export from the Inventory Management System* Customer Relationship Management (CRM): Maintain strong connections with your customer base.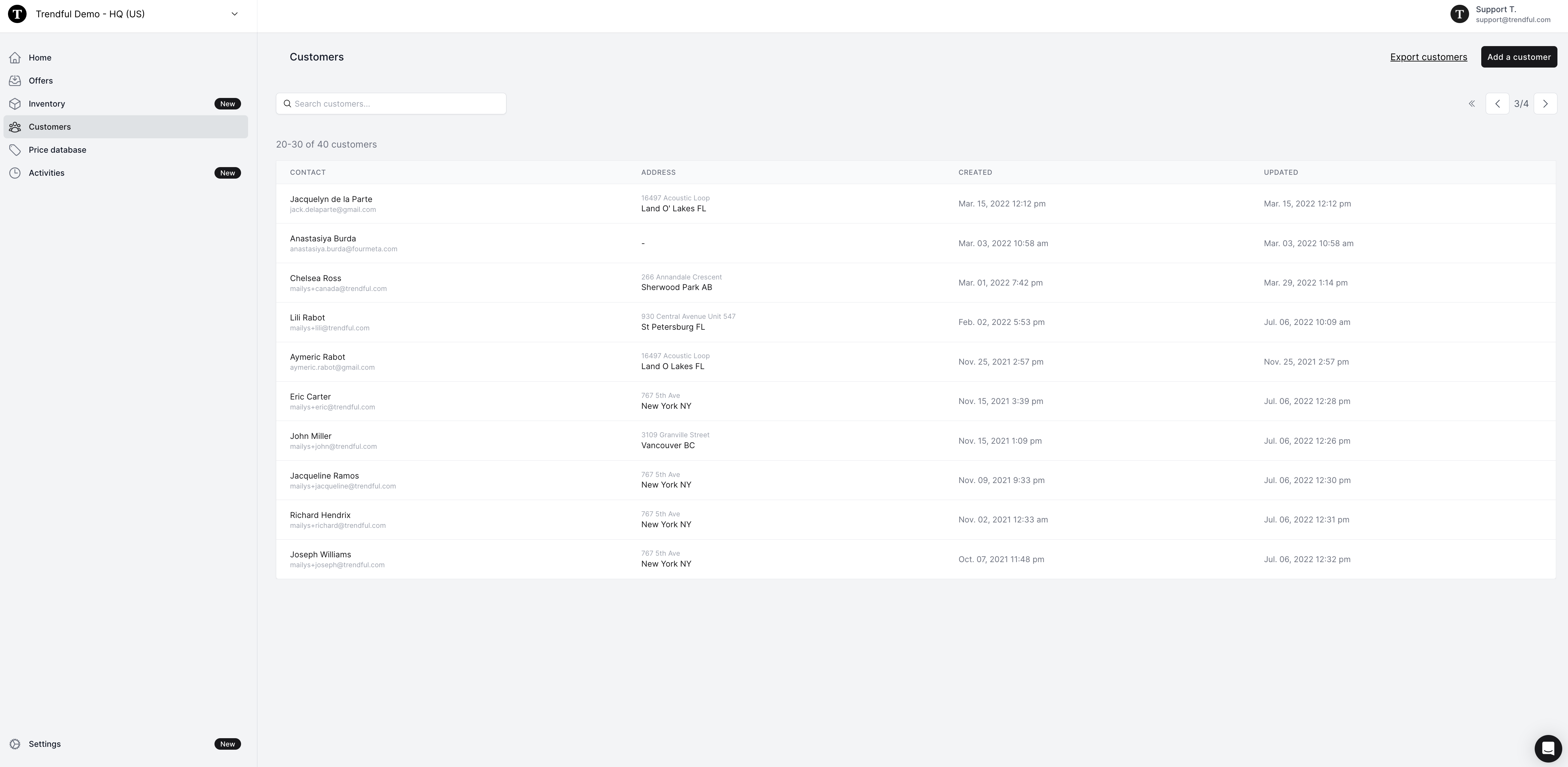 Example image of the CRM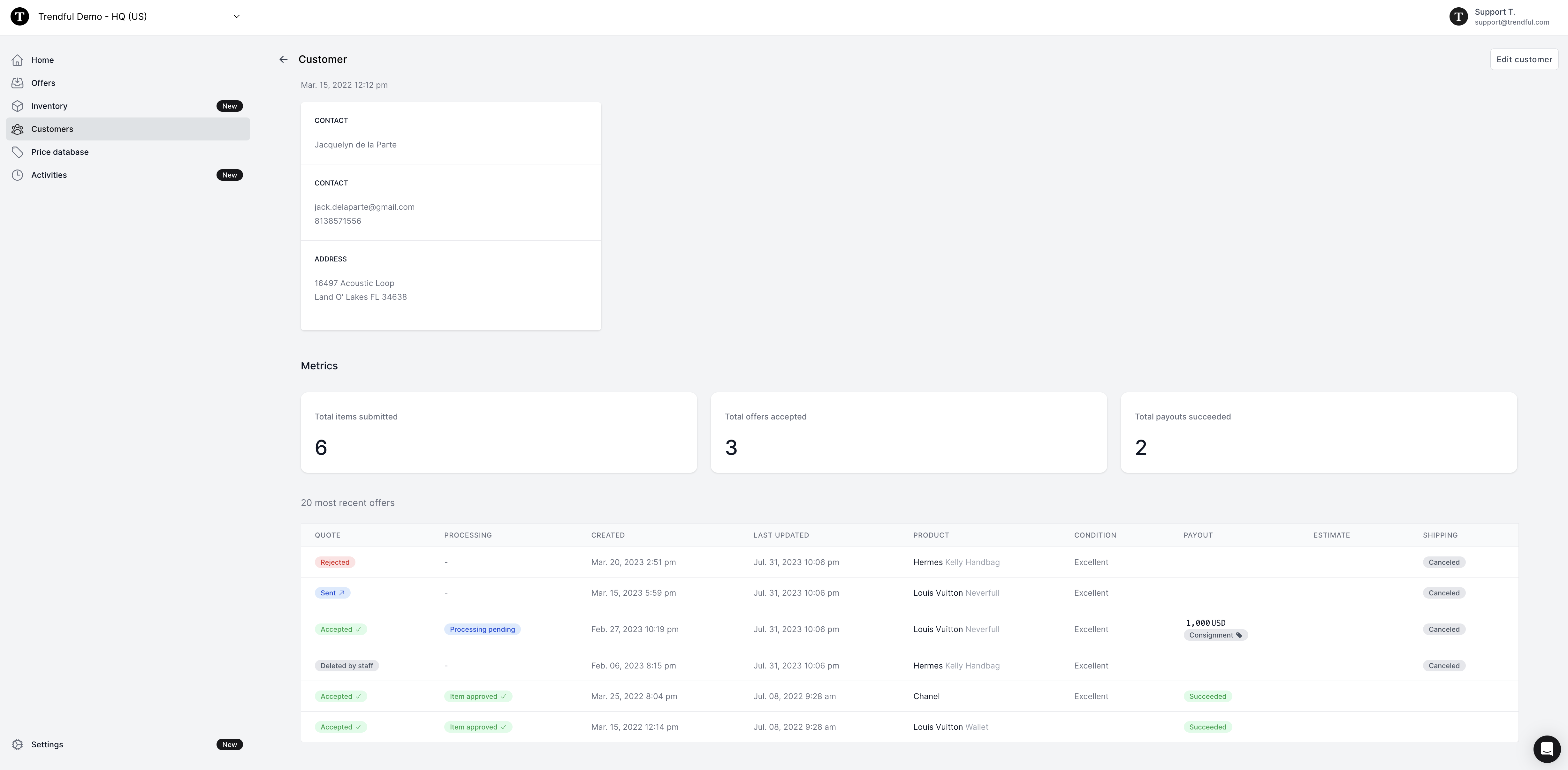 Example image of the customer details available in the CRM‍
The Resale App: Transforming Customer Reselling Experience
Integrate this state-of-art customizable app onto your website and offer your customer-base an intuitive resale experience. Customers when using the app can swiftly identify the items they want to sell, create accounts, and view the status of both past and current offers, all which contribute to convert more customers into sellers and sellers into customers.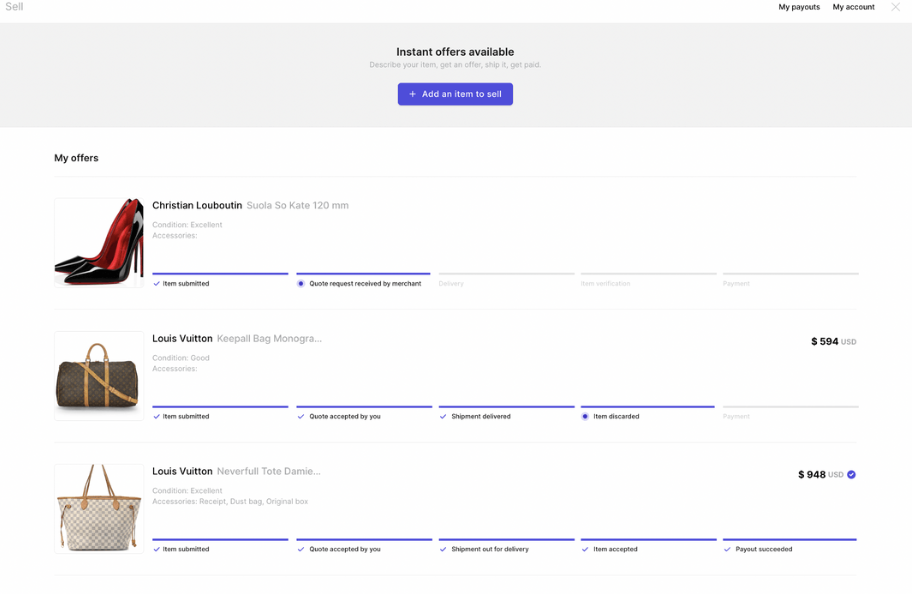 Example image of how customers can see their past & current offers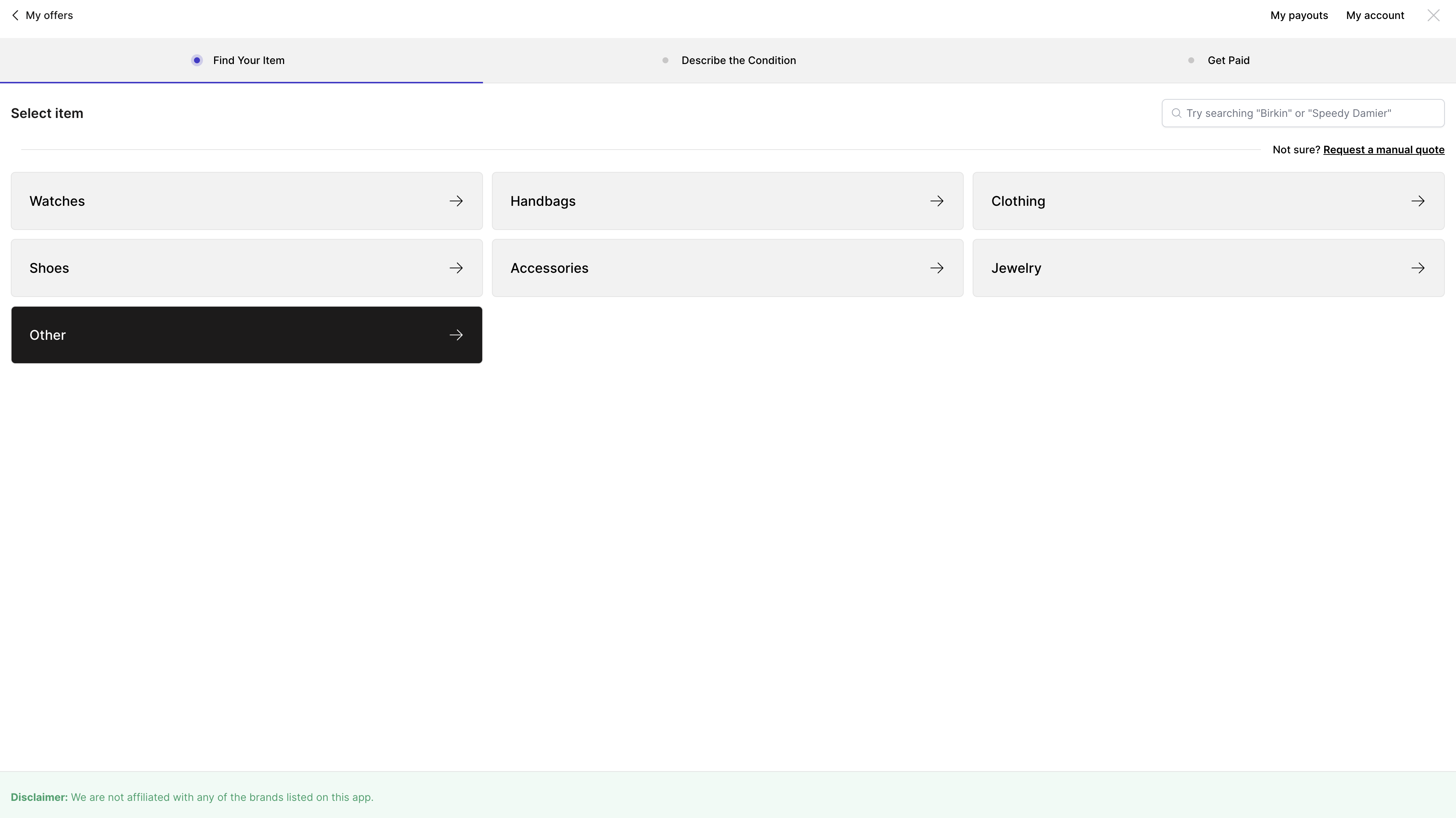 Example image of the Resale App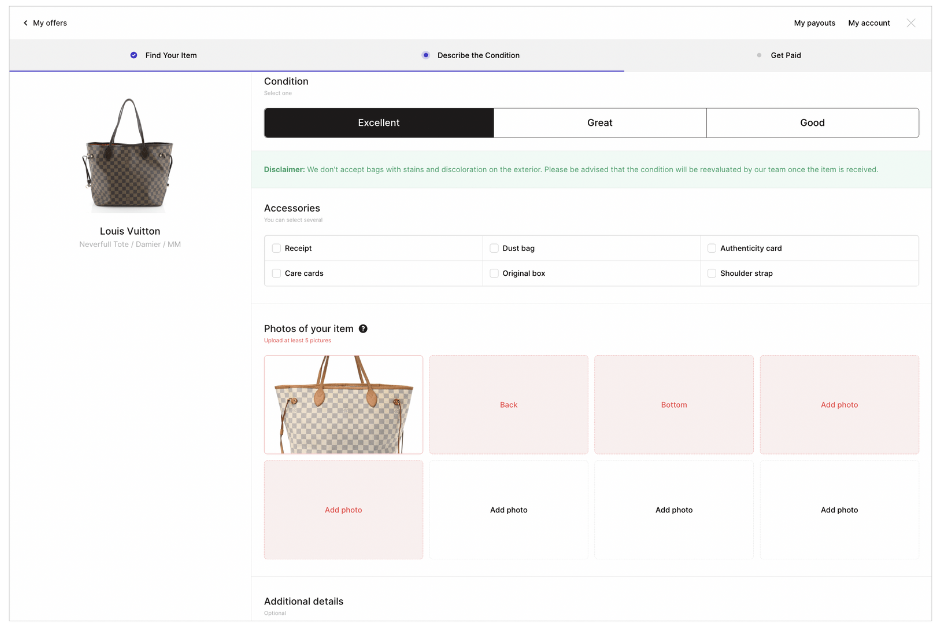 Example image of the Resale App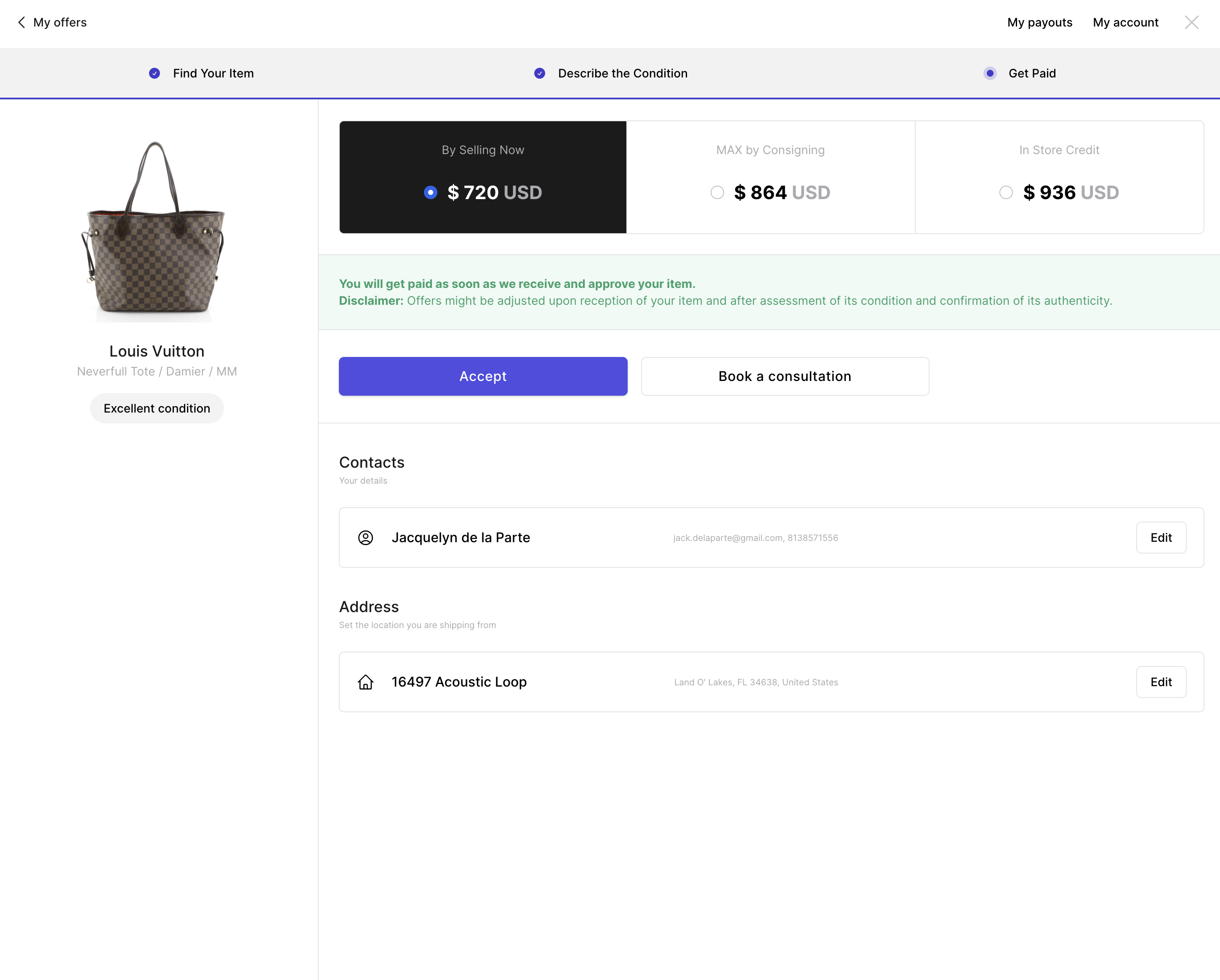 Example image of the Resale App‍
The Price Database: The Resale Intelligence Hub
Merchants have access to a treasure trove of data - over 70k product references and over thousands of price data points for designer handbags and designer watches. There is not any other price database like it available on the resale market.
With Trendful's smart search, merchants can search designer items and once they click on the item can view Trendful's recommended fair market value based on size and condition as well as see the comparative pricing on multiple marketplaces. It's data-driven decision making at its finest!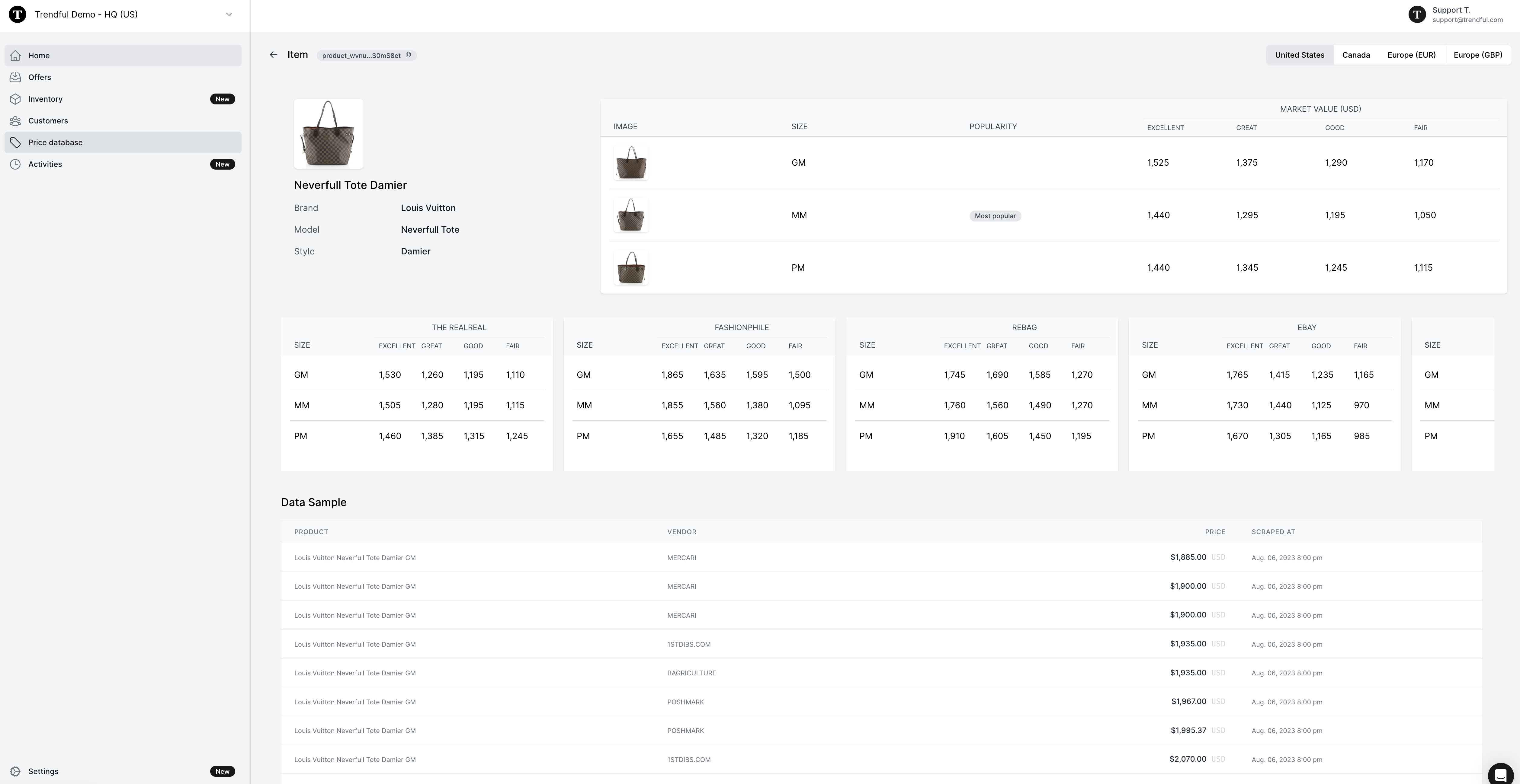 Example image of the Price Database‍
Why Resale Companies Can't Ignore Trendful
Streamlined Operations: With everything under one roof, businesses can operate more smoothly and efficiently. No more switching between multiple software tools; Trendful ensures all operations can be managed from a centralized location. 
Empowered Decision Making: The Price Database isn't just a catalog of numbers. It's a rich source of insights that empower merchants to make informed pricing decisions based on comprehensive market data. 
Enhanced Customer Experience: The Resale App revolutionizes the customer journey, making the process of selling items seamless and user friendly. This means higher engagement and, ultimately, more conversions. 
‍Growth on Autopilot: With Trendful, businesses aren't just growing; they're scaling at an unprecedented rate. The average 30% month-over-month growth that clients experience stands testament to Trendful's unmatched efficacy.
‍
Conclusion: The Future of Resale is Trendful
The resale industry is poised for more growth, and businesses need to be equipped with the right tools to harness this potential. Trendful's resale software, with its all-encompassing features, offers the perfect solution for companies looking to scale without compromising on efficiency or customer experience. As the evidence shows, those who have integrated Trendful into their operations aren't just surviving the resale boom; they're thriving like never before!
‍
References
Introduction to Trendful Wallet Guide
Resale App Customization Guide
---